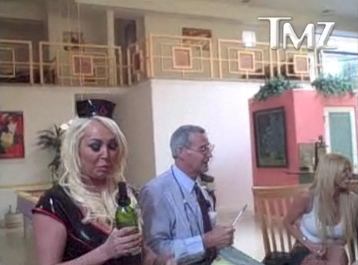 Mary Carey has returned to porn and released Celebrity Pornhab with Dr. Screw
I saw it and give it 2 flaccid penises. The writing was horrible. The cinematography was non-existant. The sex was uninspired. Who am I kidding I only watched like 43 seconds of it and moved on? Nevertheless, I still stand by my review and it is available to all worldwide news sources in case they want to quote it.
Dr. Drew is apparently upset about the whole thing, but as they say "Sign a deal with the devil …"
People are always looking to assuage their porn guilt by lauding some bright articulate porn star, who just loves her job and seems sexually liberated. Sasha Grey seems to be the latest. Unfortunately, every single one winds up looking like a crack whore in ten years "telling tells of drunkeness and cruelty," which isn't really surprising because after all that's essentially what they are.
Again, you can make a porn movie when you're 18 but you can't drink a beer. Isn't the only real reason not to let an 18 year old drink is so they don't make bad sexual decisions.
Pornography probably serves a great function by giving people outlets for the insanity of getting horny, but make no mistake about it the entire industry is a cesspool.
Anyway, I'm sure there will someday be a Dr. Drew 10 year Rehab reunion, but I'm guessing it will be extremely short on success stories. Then again what do I know, maybe Jeff Conaway will become the highest paid actor in the world.