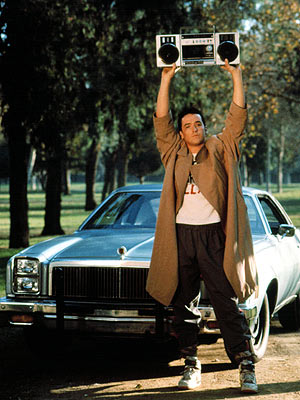 What becomes of the Romantic Dreamer after he realizes that none of his dreams will come true?
It's pretty amazing that Say Anythings' Lloyd Dobler has become such a romantic ideal. I am Lloyd Dobler and I've gotten nearly no play out of it. Everyone says that want Lloyd Dobler, but do they really?
The only thing Lloyd really had going for him was his utter devotion. He's never going to have a good job and that nervous non stop talking that you think is so cute? It's going to begin to embarrass you in a big way. He'll make a great Dad, but you'll probably have to support him, and every party you go to you'll have to explain why you're with Lloyd Dobler.
You'll have to pull out that he brushed glass from my path in front of the 7-11 story so many times that you'll become sick of it. Do you really want Lloyd showing up in a Clash T-Shirt when they throw you a party because you've made partner?
But here's the context of Say Anything that no one gets. It's a stalker movie. Who was scarier Lily Taylor and her box set of songs about ex-Joe or Lloyd showing up outside your window one night with a massive tape deck spewing out the song you took his virginity too. It's only romantic in retrospect because she came back.
If I showed up outside your window blaring "In Your Eyes" believe me you'd have 911 dialed before the chorus.
Beware the movies. They almost always promise happy endings. People are willing to put in 3 minutes for a pop song about loneliness and despair, but when they invest 90 minutes of their lives they want things to work out for the best.
I always loved Frank Capra movies, but when you get older you start to stop looking at the happy endings and start thinking about how miserable the protagonist was in the penultimate act and how unlikely that happy ending occuring in real life would be.
Wow, I think I could possibly depress Gidget right now.