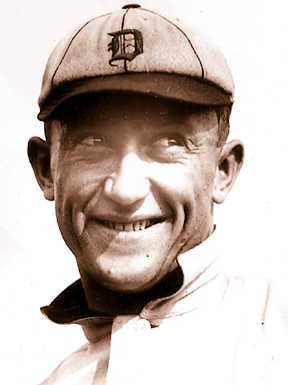 Bill James is mostly known as a numbers man, but I really admire a lot of his writing. Here's one of my favorite pieces of his about legendary baseball star Ty Cobb. I tried to find a copy of the picture he is discussing and couldn't. Hopefully the one that I found will give you a slight idea of what he's referring to.
In photographs (make it a point to notice) Ty Cobb is often shown hiding one hand or both, twisting an arm behind his back, or burying it in an article of excess clothing. One photograph of him with which I am particulary taken shows him posing with Christy Mathewson, in the dugout, before the third game of the 1911 World Series. Mathewson, as always, looks posed and confident, staring out toward right field. Cobb is peeking out of the corner of his eye at some unseen distraction — another photographer probably — but what makes the photograph remarkable, is that, to begin with, Cobb is wearing a suit that doesn't look as if it could possibly fit any of his relatives. Cobb was a big man, for his time (he is usually listed at 6'2″, 180), yet this suit has got to be four sizes too big for him — it is hard to believe that a reputable herberdasher would have let him leave the store with it. He is holding what looks like an expensive overcoat, and he appears to be dragging it on the ground. His hat is jaunty and his smile is decidedly nervous, and he looks frankly a little bit crazy.
There was such a contradiction in that dugout. Cobb was then a five time American League batting champion, with more or less seven seasons under his belt — and yet he was also a trwenty- four- year -old hick from Nowhere, Georgia, a little in awe of Matty, of the photographers, of the crowd. He had no weaopons, at that moment, to defend himself against his inadequacies – no spikes, no bat, no glove. He was so crude and unpolished that he must have felt that whenever they took those things away from him, he became nothing; his shortcomings glowed like hot piece of iron in the dark. And whenever he saw them glowing, he got angry. You can see it in his face, I think, that if he could just put on a uniform and go out on the field, it would be such a relief to him, out where manners and taste and style were all defined by bases gained and bases lost. And everyone else, for a change would have to apologize to him.