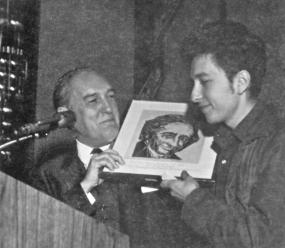 TRANSCRIPT OF BOB DYLAN'S REMARKS
AT THE BILL OF RIGHTS DINNER
at the Americana Hotel on 12/13/63
I wish sometimes I could have come in here in the 1930's like my first idol – used to have an idol, Woody Guthrie, who came in the 1930's (Applause). But it has sure changed in the time Woody's been here and the time I've been here. It's not that easy any more. People seem to have more fears.
I get different presents from people that I play for and they bring presents to me backstage – very weird, weird presents – presents that I couldn't buy. They buy – they bring me presents that – I've got George Lincoln Rockwell's tie clip that somebody robbed for me. (Laughter) I have General Walker's car trunk keys – keys to his trunk that somebody robbed for me. Now these are my presents. I have fallout shelter signs that people robbed for me from Philadelphia and these are the little signs. There's no black and white, left and right to me anymore; there's only up and down and down is very close to the ground. And I'm trying to go up without thinking about anything trivial such as politics. They has got nothing to do with it. I'm thinking about the general people and when they get hurt.
I want to accept this award, the Tom Paine Award, from the Emergency Civil Liberties Committee. I want to accept it in my name but I'm not really accepting it in my name and I'm not accepting it in any kind of group's name, any Negro group or any other kind of group. There are Negroes – I was on the march on Washington up on the platform and I looked around at all the Negroes there and I didn't see any Negroes that looked like none of my friends. My friends don't wear suits. My friends don't have to wear suits. My friends don't have to wear any kind of thing to prove that they're respectable Negroes. My friends are my friends, and they're kind, gentle people if they're my friends. And I'm not going to try to push nothing over. So, I accept this reward – not reward, (Laughter) award in behalf of Phillip Luce who led the group to Cuba which all people should go down to Cuba. I don't see why anybody can't go to Cuba. I don't see what's going to hurt by going any place. I don't know what's going to hurt anybody's eyes to see anything. On the other hand, Phillip is a friend of mine who went to Cuba. I'll stand up and to get uncompromisable about it, which I have to be to be honest, I just got to be, as I got to admit that the man who shot President Kennedy, Lee Oswald, I don't know exactly where –what he thought he was doing, but I got to admit honestly that I too – I saw some of myself in him. I don't think it would have gone – I don't think it could go that far. But I got to stand up and say I saw things that he felt, in me – not to go that far and shoot. (Boos and hisses) You can boo but booing's got nothing to do with it. It's a – I just a – I've got to tell you, man, it's Bill of Rights is free speech and I just want to admit that I accept this Tom Paine Award in behalf of James Forman of the Students Non-Violent Coordinating Committee and on behalf of the people who went to Cuba. (Boos and Applause)