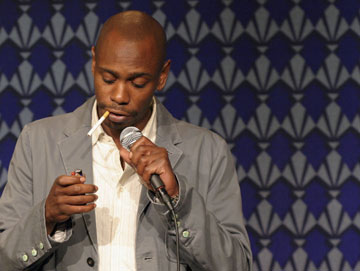 Dane Cook Breaks Comedy Record
Jan. 3, 2008, 5:58 PM EST
The Associated Press
LOS ANGELES — Dane Cook broke a Laugh Factory endurance record set less than a month ago by Dave Chappelle.
In what is becoming a heated battle between the two comedians, Cook told jokes at the Sunset Strip comedy club for 7 hours, beating the record Chappelle, 34, set at 6 hours and 12 minutes in December.
It's too easy to make fun of Dane Cook these days. I actually think he is talented, but whereas I'd kill to have seen Chappelles whole set, I have a feeling I would have wanted to pierce my ears around hour 6 of Dane.
Chappelle has a point of view and something to say, Dane is merely a joke blower even if it could be argued that he's a talented one.
It would be interesting to see both marathon performances and compare them but let's put this nonsense to rest and concentrate in the future on the perfectly paced 90 minute set.