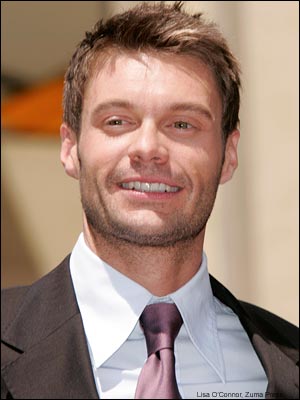 I've talked about this before – I watch award shows – I despise award shows – etc etc but finally the Emmy's have come up with the ultimate puff category:
Outstanding Host For A Reality Competition Program
And the nominees are:
Ryan Seacrest – American Idol
Tom Bergeron – Dancing With The Stars
Howie Mandel -Deal Or No Deal
Heidi Klum – Project Runway
Jeff Probst – Survivor
Obviously, Seacrest needs to win this thing. Then they should have a tribute to Dick Clark, where they wheel that guy onto the stage and Seacrest, after giving a five minute speech on what an inspiration Dick has been to him, will bite Dick's head off and declare that he is now not only the most powerful man in showbusiness, but the most powerful man in the world.
He will then have sex with Lindsey Lohan in a pay per view event and declare her rumored lesbianism cured.
He will then go to Iraq and host a "Who's the most committed fanatic alive" competition, which will somehow bring peace to the region.
He will then run for President as an independant with Paris Hilton as his running mate.
Paris will make both Joe Biden and Sarah Palin look like fools in the first Vice-Presidential Debate with a Red Carpet, which will ironically be hosted by Seacrest.
Seacrest will then win by a large margin despite being two years too young to occupy the office.
He will then solve our fossil fuel problems; convince totalitarian leaders in Africa to stop killing their people and instead feed them; unite all religions by convincing them to abandon Jesus, Muhammud, or whoever else they are into in favor of whoever was voted People Magazine's Sexiest Man Alive that year.
Having then shown the world how easy it is to live peacefully and happily. He will form a SS squad that will in one fell swoop kill any person alive who isn't pretty enough to get by the velvet rope at whatever restaurant it is that Ashton Kutcher, Danny Masterson, and that guy who played Fes own in Los Angeles, forever eliminating ugliness from the planet.
Of course, he will then step down and resume his hosting duties on American Idol, because really that's more important than any of that other crap anyway.