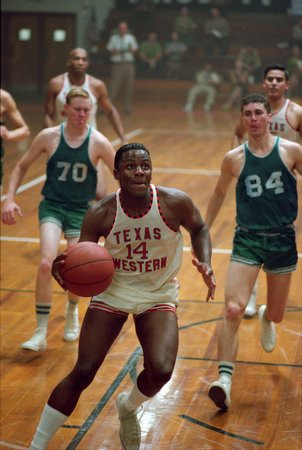 Man, I hate getting burned by movies "based" on true stories. Have we not advanced a step since Cary Grant pretended to be straight both in real life and on the big screen as Cole Porter in Night and Day. For the life of me I just don't understand why they have to lie. They, in this case is Disney and Jerry Bruckheimer in Glory Road. I saw it last night and loved it, but I just knew I was going to get burned when I looked into it a little closer and I did.
I understand that film isn't the place to go when in search of the truth, after all the first agreed upon classic of the medium was Birth of a Nation and it deified the Ku Klux Klan. I understand that embellishing the sports movie goes at least as far back as Pride of the Yankees with Gary Cooper, where they filmed the whole thing backwards and had the right handed Cooper run to third base. Pride has one of the greatest lies in movie history, but at least it had a pretty decent excuse. How do we make Lou Gehrig interesting, when Babe Ruth, the most charismatic athlete in history before Cassius Clay beat Sonny Listen, is in the same dugout? Here's how. You know that story about the Babe promising to hit a home run in the World Series for little Billy in the hospital? What if after the cameras left, the shy humble Gehrig promised Tommy two homers, but was too modest to tell anyone about it. Then ten years later Tommy will show up at Lou Gehrig Day and tell the Iron Horse that he was his true inspiration to get better. All this and then the poor Babe has to be portrayed by the oafish William Bendix a few years later.
Don Haskins coached Texas Western to a 1966 NCAA Championship victory over Kentucky and their legendary coach Adolph Rupp. Rupp had purposely never recruited a Black player. Haskins became the first man to start five in an NCAA final. It's an incredible story on its own and it could have been just as entertaining and inspiring without the embellishment.
According to Glory Road, Haskins is hired by Texas Western straight out of coaching high school girls basketball and shocks the school and its racist boosters by recruiting seven black players who he instantly leads to the national championship in his first year. Nice story except for the fact that Haskins started at Texas Western in 1961. Not only wasn't Texas Western appalled and shocked by Haskins recruitment of Black players, the school had been featuring Black athletes for years. Haskins didn't inherit an all white squad, in fact one of the players that was there to meet the new coach was Nolan Richardson, who went on to Coach Arkansas to the 1994 National Championship and was not then and is not now a White guy with glasses and a buzz cut.
Here's a quote from Haskins and a scene I would have loved to have seen in the movie.
To give you some idea of the tenseness of the game for the players, Moe and I went in and decided to start three guards against Kentucky. Adolph Rupp was a great coach and they had great players – Louie Dampier, Pat Riley – and they got the ball down court in a hurry. Moe was drawing up their offense, and I was standing there watching. It's a crowded little room in College Park, Md. I turned around and two of my players were sound asleep, Bobby Joe Hill and [Willie] Cager. Moe and I left the room in a huff. They were a hard team to get ready to play because they were so confident. They were the most confident team I ever saw. … It drove me nuts.
Here's another quote from the Dallas Morning News about a scene that also didn't make the movie:
Haskins was worried that one key part of his childhood in Enid, Okla., might be cut from the upcoming film, Glory Road. Once, he and a black friend, Howard Carr, took a break from work at a feed store. There were two fountains, one for whites and one for blacks. "Then it hit me, that he had to drink from another fountain," Haskins said. "It seemed to me that if a guy could go off and fight for his country … but not drink at the same fountain, we're a long ways away."
How is that scene cut out of the movie? Minus that scene Haskins is just a hungry white basketball coach looking to take a short cut to the big time by exploiting the untapped wealth of ignored Black basketball talent. Look if you're stuck making a movie about Pete Sampras or some other historically talented but boring figure by all means make something up and keep me entertained, but when you have a killer true story that was also a pivotal event in both sport and civil rights history why weaken it by making up simplistic nonsense that never happened. It's nothing but sheer contempt by Disney for its audience, but then again what else is new?