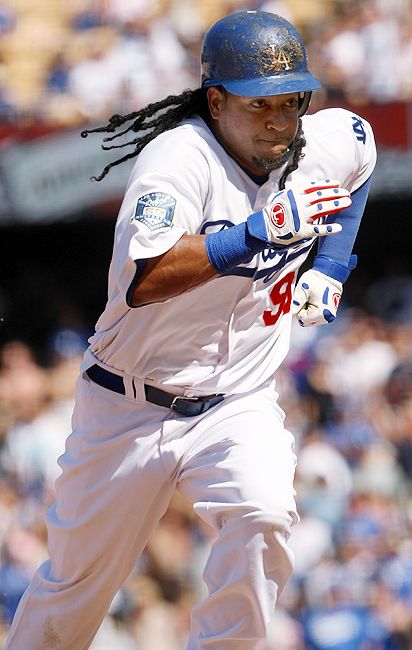 No, I'm not wondering how he can hit so well, although how he golfed a pitch he seemed totally fooled by that almost bounced in front of the plate into the stands last night, is pretty mysterious.
The thing I was wondering about last night was Manny's helmet. I always figured that his Red Sox batting helmet, which looked as if it had been stewing in tobacco spit for 100 years, was so dirty and grimy because Manny had used it for years. But then last night I looked at his Dodgers batting helmet and wow, it was just as disgusting as the one in Boston ever was.
Is there some sort of service that takes shiny new equipment and makes it look game (career) used? Maybe he stores it every night in a vat of battery acid.
UPON FURTHER RESEARCH: It's apparently pine tar. I learn valuable stuff every day!
From the post game interview with Manny:
Manny, on that home run, you're bent over, you're stumbling out of the batter's box, your helmet is coming off, your pants are falling down, and you hit it out. How do you do that?
MANNY RAMIREZ: First, I want to thank Joe for cutting my hair.
Of course, you do – your batting helmet is covered in pine tar!