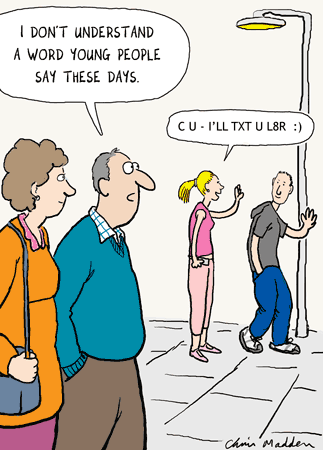 I'm so obsolete I'm posting this lame ass cartoon about it.
People have been sending me these long texts these days, and all I can do to respond is send a Y or a N.
I was under the assumption that all these people just had way better cell phones than I did. I thought they all had real keyboards or a Blackberry where they could at least type in the letters with a single push of a button.
On my phone I have to hit the 2 button three times just to spell the first letter of cocksucker, and if I make it to the E near the end then I almost always accidentally hit the red cancel button because it's too close to the 3 and my fingers aren't small enough to just hit the three button three times.
Tonight I found out that I'm just old and fucking lame. I watched this dude text a ten word message with the same kind of phone as I had in about three seconds without even looking at the keypad.
Hope I die before I get old indeed.
Anyone want to buy any of my old vinyl? Fuck!