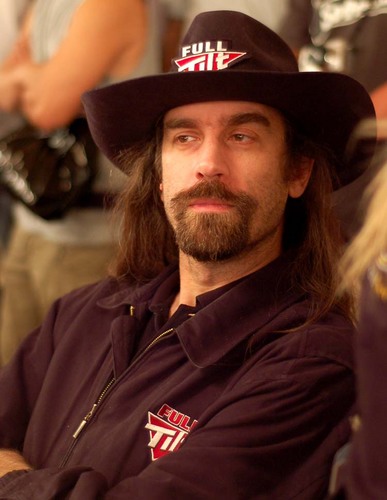 Chris "Jesus"Ferguson bugs me. I'm sure he's quite nice, but despite his desperado look he's as boring as those books they made you read in high school. If I see him throwing more playing cards at fruit I will retch. But he finally tipped me over the edge tonight.
I'm enjoying a really good episode of Poker after Dark filled with irresponsible gamblers like Mike Matasow, Phil Laak, Phil Hellmuth, and the apparently soon to be deported Shawn Sheikhan. This is exactly the type of Poker show I enjoy, mostly because it doesn't include Chris Ferguson, who is really a math dork, has no gamble in him, and makes for rotten television.
Suddenly, Chris appears on the set representing the Poker Players Alliance, telling people to gamble responsibly. But see Chris doesn't really care if you gamble responsibly. What he really wants is to look respectable so Congress will stop interfering with online Poker so he can make a lot of money through his real alliance – the one with Full Tilt Poker, and it's hypocritical nonsense. The same way it's hypocritical nonsense that all the pro's wear hats advertising their play money dot net sites when they really want you to put money in their real money dot com sites.
I have zero problem with online poker being legal. I have zero problem with Chris Ferguson making a fortune because he once sucked out on TJ Cloutier and won a World Series of Poker Main Event Championship. Just tell the truth like Mike Caro does, say it's a personal freedom issue and stop being a insanely boring kiss ass.  Oh and Chris, next time you're at a table with Mike Matasow, tell him to slow down because we all know that you are really concerned for problem gamblers.