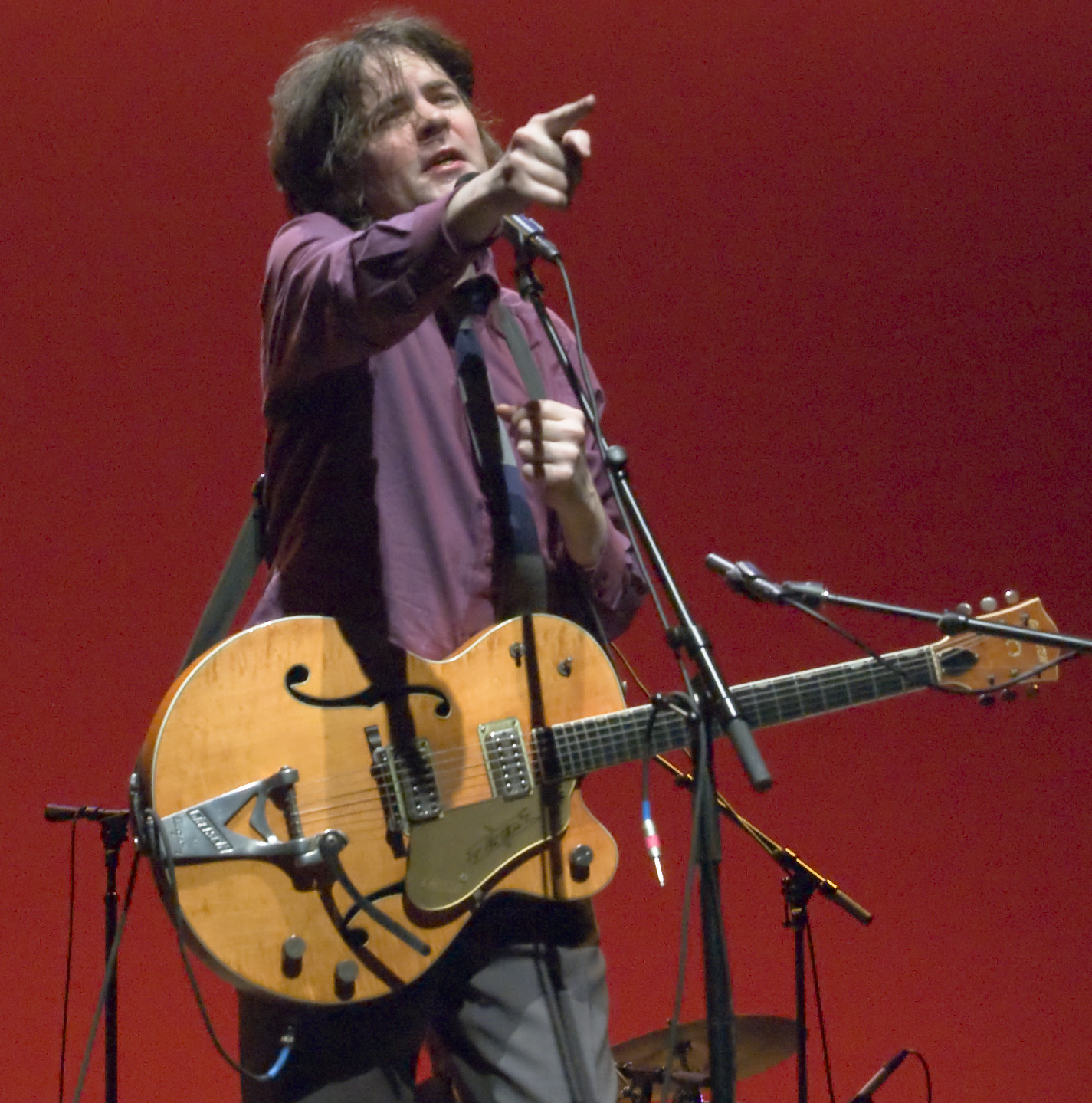 I've often been accused of hyperbole, but tonight was something akin to a communal religious experience for me.
Here's the way it should always be. The crowd is reverently silent. Jon starts grooving to the music, his head rocks back and his eyes roll into the back of his head like he's just felt the effects of the onrush of a hit of grade A heroin; from there anything can and will happen. The Girl I Knew drifts into about 7 60's instrumental themes including Secret Agent Man, Peter Gunn, and the 007 Theme. It eventually morphs into Cheap Trick's Surrender and concludes with The Clash/Eddy Grant's Police on my Back. About 4 and a half hours later its over and you can only hope that Jon Brion, who was dripping with sweat, was able to dry his hair before venturing out into the bitter Chicago cold.
Me and Jon BFFs
A guy on the Sound Opinions message board accused me of thinking that Jon and I were BFFs after my rant about the New Year's Eve show at the Harris Theater.
One person wrote: Is he really THAT much better in other settings? – The answer if he saw tonight's show – YES!
Another wrote: Guy made it sound like a gang of anarchists broke into the Louvre to smear shit on the Mona Lisa.
To which I can only respond – You're damn skippy! This fucker is Mozart to me – Like Bill Hicks said about Jimi Hendrix "I don't care if they died in puddles of their own vomit! I want someone who plays from his fucking heart! … Shut up and LISTEN TO HIM PLAY!"
That's ok they treated Mozart like a trained seal too.
Uh are you fucking kidding me
Jon: Uh, are you guys ok? I mean are you tired, do you want to go home, cause if it's ok I can keep playing until they throw us out of here.
When the roof blew off of the building
Everybody's Got Something to Hide Except for Me and My Monkey is requested.
Jon begs for someone who unlike the Lithium singers from Monday night, really owns the chord changes of the song and can play bass. He chooses a guy with John Lennon glasses, since that seems safe.
The bass player joins the prettier Autumn Defense guy, who is sitting at the electric piano, and his friend, who is playing drums. The guy so owns the bass part of the Beatles song (in fact he sang killer background too) that Jon is inspired to turn the request into a full out raging John Lennon tribute jam. Monkey becomes Don't Let Me Down, which becomes Revolution I, which becomes I Want You (She's So Heavy), which becomes Tomorrow Never Knows. The only thing that matches the joy of the crowd is the smile on Jon Brion's face when the volunteer bass player nails the bass solo fills from I Want You (She's So Heavy). All I can say is – that was motherfucking sick!!!
Genius Idea I wish I had actually planned
Write a scathing review about the disrespect of Monday's crowd and how they tried to make the show all about themselves, so that at Martyrs' they are drop a pin silent enabling me to mockingly request Billy Joel's We Didn't Start The Fire and make the show all about myself. Guilty, I guess, but I didn't plan it.
Jon came out in a buttoned up leather jacket and a red and black knit tie, which caused me to yell out "Dude, you look like Jack White."
Jon laughed and was like "Hmm, Jack White, that's not so bad, I can live with that." He then launched into a story about a friend of his who was relating the agonies of a recent breakup. She said he cheated on me multiple times, but one of them I didn't have a problem with. When Jon asked how that could be, she told him that her boyfriend had slept with Debbie Harry, and she couldn't really fault him for that because she is so fucking cool.
Best Laid Plans
I brought a note pad and was going to write down a set list, but felt like a dork and decided not to, which was unfortunate because Jon played all or parts of at least 6000 songs tonight. If a real set list appears and it is accurate it is going to be longer than the song listings from a Motown box set.
Funniest Jon exchange of the night
Crowd: Strangers in the night
Jon: Strangers in the night, exchanging glances …. wow, if I'm going to do Sinatra tonight it will have to be from before 1960
Crowd: Lionel Ritchie
Jon: If I play Lionel Ritchie it will definitely have to be from before 1960!
Why you should have stayed until after Jon's 15 minute break
In addition to the Lennon Medley, there was an Ishtar Medley and a Lovin' Spoonfuls Medley (Daydream, You Didn't Have to Be So Nice, Summer in the City).
Crowd: The Mr. Belvedere Theme
Jon: I don't know that, but I can do this
Jon leads a singalong of Where Everybody Knows Your Name – the theme from Cheers
Did I mention that he took advantage of the Electric Piano left behind from a Ray Charles tribute night to perform a sick workout of the Zombies' She's Not There, which turned into the Velvet Underground's Waiting for my Man?
Did I mention the full band rave up of Ray Davies' Sunny Afternoon?
Jon Brion man of self deprecation?
Jon had some tuning problems during I've Got It Bad and that Ain't Good.
Jon: Oh my god, I just spent two minutes tuning over the brilliance of Duke Ellington. The big man upstairs is going to be really pissed and by that I mean Duke Ellington. 'Son there are two kinds of music good and bad and what you did there ….'
What the fuck else can I remember
Guess the riff with his baritone guitar. When the sound got really sludgy he sang Tainted Love and beamed mischievously at the nasty guttural sound of half of the chords he was producing.
Amateur, Same Thing, Les Paul doing What a Fool Believes, a Smiths song ("I love the way that guy enunciated the word the when he said The … Smiths), followed by a Buzzcocks song and a lecture about how underappreciated Pete Shelley is. A couple droning keyboard explorations. The Everly Brothers' Cathy's Clown. Buddy Holly's Everyday.
At least 10 other songs I can't think of now because like I said above I didn't want to look like a dork.
Why I'm ending it here
Tommi Zender thinks I need to be more succinct.
Again
Is he really THAT much better in other settings? You're damn fucking skippy!!