Surprise! Neither George Costanza or Barney Fife are on this list.
Stop it, I love them both but neither were secondary characters. The show might have been called Seinfeld, but the show was ABOUT George Costanza.  I won't knock Andy Griffith, who was as likable as they come, but Don Knotts won 5 Emmy's for a reason.
So on to my list. Some of these people had jobs. None of them deserved them or did them well. Most of them were incredibly stupid and the ones that were smart used their intelligence to avoid hard work. Collectively, these ten guys couldn't run a McDonalds. They'd eat all the food and then take a nap. I like to think of most of them as role models.  
10. Harry "The Hat" Gittes – Harry Anderson – Cheers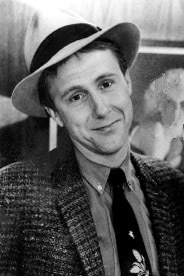 Norm and Cliff would fit well on this list, but this guy owned them. Con man Harry would walk into the bar and Norm would just hand over his money without a fight. Cliff is still trying to figure out how he wound up buying Harry those two drinks after Harry bet him he could put his hat over a shot and drink it without touching said hat. The episode where he wins Coach's poker money back is as well written as the Sting.
Anderson is pretty indicative of what a drag (sort of drag – he got paid) it is to be the main character on a show. Night Court was built around him, but crazy Judge Harry was soon forced to be the sanest person on the show. Only Larry David has ever really been able to center a show around a truly unlikable, psychotic character and he's now done it twice. The difference between Seinfeld and Curb Your Enthusiasm is sort of similar to how they used to make Eddie Murphy co-star with white comedians.
9. Dan Fielding – John Larroquette – Night Court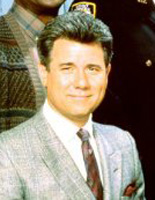 Four Emmy's. The only question here is how he wound up a prosecutor and not a defense attorney. Lazy, morally corrupt, ruled by his greed and his penis. What's not to love? Played a stupider version in Stripes. His own show was criminally underrated and has one of my favorite one liners of all time.
A bum asks diner owner Daryll "Chill" Mitchell for a dollar. Mitchell says "The last time I gave you a dollar you went to that pay phone over there and called me four times!" Bum says "Everyone says they like irony, but no one is willing to pay for it."
8.  Fred Mertz – William Frawley – I Love Lucy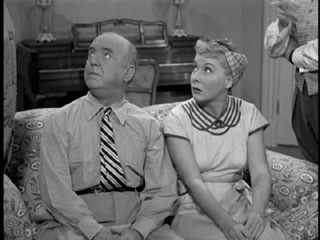 Cranky, lazy, and yet big time bandstand star Ricky Ricardo pays him rent.
7.  Uncle Joe Carson – Petticoat Junction – Edgar Buchanan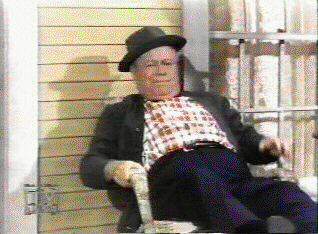 The most willfully unhandy handy man in the history of the world. Never fixed the elevator, never carried any bags up to anyone's room. Perhaps the laziest man in television history. He and Mertz would have been fast friends, but given their remoteless era, if they ever sat down together on a sofa and watched television, the channel would never ever be changed.
6. Ted Baxter – Ted Knight – The Mary Tyler Moore Show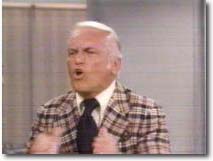 Will Farrell owes his estate at least half of the profits from Anchorman. The most financially successful character on the list as well as the stupidest by far. This should outrage you just like it did Gavin McCloud, but he was far too likable to produce any real outrage. Given Fox News or Ted Baxter, you know who I'm choosing. Too Close for Comfort sucked, but I'd pay to have seen his and Jim J Bullock's off camera encounters.
Had he never gone to work for that preachy newspaper Lou Grant would be on this list.
5. Ernest T. Bass – Howard Morris – Andy Griffith Show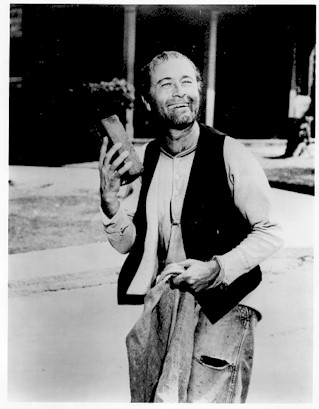 If you think about it, this infinitely beloved show did the reputation of the South more harm than the Ku Klux Klan. Minus Andy, the whole damn town had a combined functional IQ less than your average seven member cast of the Surreal Life. Andy sure seemed clever, but really he was basically bartering with the town evolution forgot.
Ernest T was at least somewhat effective. Sure, he made Gomer Pyle look like a Rhodes Scholar, but he was a Romantic of the first order and knew the importance of carrying a brick when negotiating.  
4. Otis Campbell – Hal Smith – The Andy Griffith Show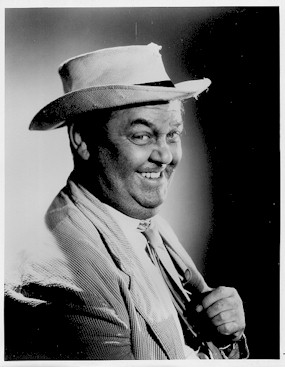 Actually, if you think about it, the second smartest character on the show. Andy and Barney are basically paid to bust up stills, yet Otis still finds somewhere to get drunk every night. Likely had a great life. Lots of booze, no work, a free place to sleep with free homemade cooking. Where do I get this gig?
3. Eddie Haskell – Ken Osmond – Leave it to Beaver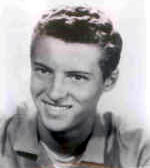 Genius. The most insincere character in dramatic history. Not a soul buys his kiss ass routine, he knows it and could care less!
2. Frank Burns – Larry Linville – M*A*S*H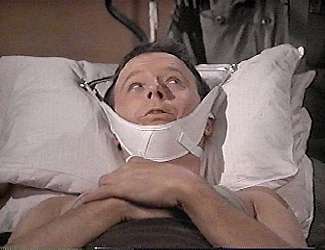 A great tragedy, as this guy never got the respect he deserved to the day he died. Utterly brilliant in every episode. Frank Burns was easily the least redeemable and most unlikable character in television history. Shallow, vain, stupid, incompetent (which is especially bad when you are a doctor), greedy, immoral, cowardly, self-important, hypocritical, and yet fairly honest about himself.
Seinfeld was famous for its no hugging no resolution rule, but Burns was there decades earlier. Before Burns and for a long time after, even the most evil of sit-com characters were somehow redeemed at one time or another usually by a starving abused orphan or the death of a loved one. Not Burns – not once!
M*A*S*H went on for years without Linville, but it was never truly funny again. If you look back at all the laughs Linville not only provided himself or motivated through his actions, plus the vicious insults he received from everyone else – it's really not a surprise.
Extra points for no longer shagging Loretta Swit once she lost her looks.
1. Maynard G. Krebs – Bob Denver – The Many Loves of Dobie Gillis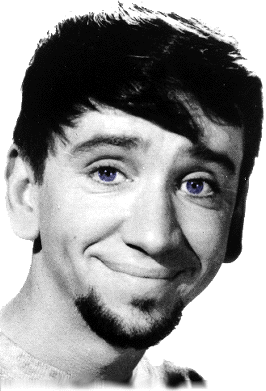 The Many Loves of Dobie Gillis is Perhaps most underrated television show in the history of the medium and Frank Faylen, as beleaguered father and grocery store owner, Herbert T. Gillis, could easily be on this list.
A doctoral thesis could probably be written comparing the brilliant stupidity of Maynard G. Kreps to the inane stupidity of Denver's lamentably far more famous Gilligan.
Unlike most of this list, Krebs despite his lazy dimwitted incompetence didn't have a mean bone in his body. Like Gilligan, he wore the same clothes in every episode. That's a decade on the tube with only one costume change!
A little Jazz, a monster movie, and a good friend was all he needed out of life and we'd probably live in a better world if we were all a little more like him. The polar opposite of Frank Burns, the most genuinely decent character ever to grace the small screen.