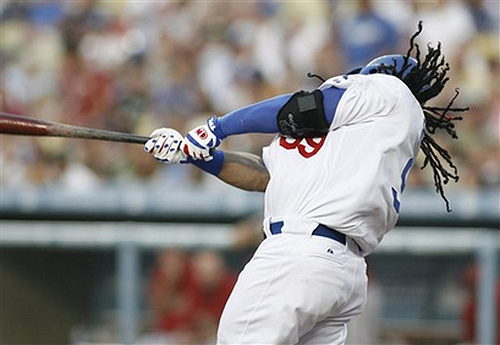 I'm a little shocked to see that this is actually getting some decent run, seeing that he's only played 43 games so far, but he is hitting .400 with a slugging percentage of .750. He's reinvigorated the Dodger clubhouse, they're likely going to win their division going away, and apparently Buddy Biancalana could hit .350 batting in front of Manny.
Sure he jaked it on the Red Sox, but
1. F the Red Sox, I couldn't care less, couldn't have happened to a better group of robotic, heartless baseball atomatons.
2. The Red Sox lose to the Indians last year, if it weren't for some goofy quotes from Manny that took the pressure off the rest of the team.
3. If Dennis Rodman is going to win you three championships, let the goofball take his shoes off during time outs.
4. Manny probably jaked it over money – I still don't care – Do you think Theo Epstien was going to pick up Manny's option if he broke his collarbone crashing into the Green Monster to make a catch that won the World Series?
If you disagree, go reread your copy of George Will's Men at Work, because it's still a game to me.