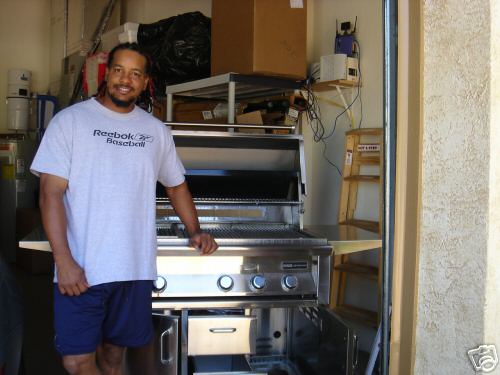 Curt Shilling just trashed him, but the Manny train continues to keep a rolling.
No one understands him, no one deny's that he is a hitting savant.
Here's an entertaining article called the Genius of Manny Ramirez and he's not really being very ironic. Good quotes from Bill James and a variety of pitchers on the fact that he's the Bobby Fisher of batting.
My favorite line since I'm from Cleveland of course is "The thing was the Indians already had Albert Belle, so the position of "Intimidating And Moody Right-handed Hitter Who Crushes Pitches To Every Field And Does Not Talk Much To The Press And Grounds Into Too Many Double Plays And Often Seems Disinterested In The Outfield," was already filled."
Of course, this is pure Manny "not only was he ticketed for having darkened windows, he was ticketed AGAIN after making an illegal U-turn as he drove off"
And of course the point I've been making for over a year now "During last year's playoff series with Cleveland he famously said in reference to reaching the World Series, "If it doesn't happen, who cares? There's always next year. It's not like it's the end of the world." Manny being Manny. Then, he reached base six of his next 12 times at bat and the Red Sox won three straight."
But best of all, and apparently Major League Baseball has denied you the fans the glory of seeing this ever again on the web is this description of Manny's epic cut off throw – here described as the greatest play in baseball history
No one has ever described this play as well as Jim Rome, who has probably reveled in it at least 1,000 times, but here is a pretty good description from the above link!
It happened on July 21st, 2004, in the 7th inning, with 2 outs, Baltimore Orioles v. Boston Red Sox at Fenway Park. David Newhan is at the plate against Pedro Martinez, and it looks like Newhan just took him deep until the ball bounces off the wall in center. Johnny Damon fields the ball and throws it in to Mark Bellhorn at shortstop, but the throw is intercepted by a diving Manny Ramirez. "It was a highlight catch," Damon said of the maneuver. For this to happen, Manny had to sprint across a substantial portion of outfield. Never in the history of baseball has a left fielder cut off a center fielder's throw. No manager in the world would practice a triple cut-off to include the left fielder. They'd have Manny practice unassisted triple-plays first. And to make it worse, it was probably his best catch all season. A diving stab. And, as Manny lies on the ground, Newhan comes home, an in the park home run. Only Manny can rise to the bigs without knowing even the rudimentary basics of baseball. "That," Newhan said, "was kind of a weird relay there." Even Terry Francona said, "That was a big mistake and we paid for it."
<iframe width="560″ height="315″ src="https://www.youtube.com/embed/SCdp-pSA8kc" frameborder="0″ gesture="media" allow="encrypted-media" allowfullscreen></iframe>