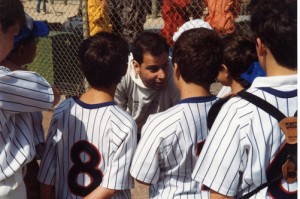 Not only am I older than both Elvis and John Lennon when they died, but today is the 28th birthday of one of my first and favorite little league kids, Nick Figone.
In this photo, I am more than likely, regaling my team with something that had little to do with baseball. "You guys don't watch the Flintstones? I need to talk to your parents."
Before the days of coin machines, Nick and his sister once rolled my loose change from like 4 years of working in San Francisco. There must have been like 500 dollars worth and I gave them ten percent. I hate change – and somehow I always wind up with like a dollar fifty in my pockets which I would dump into a cup and never think of again. I'm not sure if they enjoyed it, but they rolled all of it – hopefully not under the duress of their wonderful mother.
Nick was maybe the only kid that I had for all four years and lived just a few doors down from me. Happy Birthday Nick.