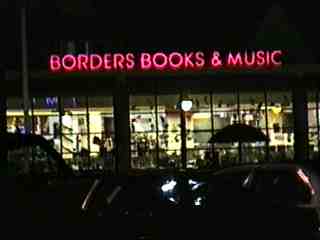 The humiliation continues. It's even worse than the title. I wasn't even good enough to be Christmas time temporary help at Borders.
I filled out an application on their web site, and somebody called me to schedule an interview. The day of the interview I get all dressed up and go to the story I applied at. Unfortunately, if you apply at one Border's, you've applied at them all and the call I got wasn't for my local Borders. It was for a place like a 40 minute drive away. What the hell is that?
After numorous stops and phone calls, I finally got an interview with the store at which I actually applied. The guy who called me made sure that I knew that he was only looking for someone for three weeks. I told him that this was fine because I had a month to wait for a free lance writing job to start.
So I go in and I was feeling fairly good. He asks me to tell him something about myself. I say that I graduated Northwestern Phi Beta Kappa. I tell him that my hours are totally flexible, I can work any time as much or as little as he wants. I tell him that I know tons about movies, music and books and love to help people pick them out and that I would be really good at pointing out other things that they might like in the same vein.
Shouldn't I get hired right there? The guy started interviewing me like he was looking for a new IBM CEO. What are your top three strengths and flaws. Tell my about this job you had 12 years ago. Jesus, it's a bookstore. I want to get out of the house and think it would be fun!
He never called me back. I called him and he claimed to have hired nobody, which is odd because he said that he was interviewing a ton of people. People think that if you used to make a lot of money and suddenly want to work for $13 dollars an hour that there might be something wrong with you. They're probably right.
This happened to me in LA once. I didn't even get an interview and then I walked in and saw this girl with Cerebral Palsy working there. I mean I guess I'm glad that a girl with Cerebral Palsy can get a job, but they hire her and I can't even get an interview? 
This is the kind of stuff that makes people start robbing banks.