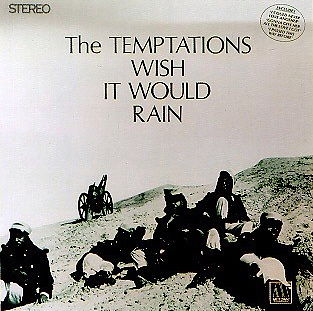 Kim Fowley on pop music: Music for lonely people, made be other lonely people
The new issue of Mojo had a section about the greatest heartache songs of all time. Their top choice was the elegiac "The Dark End of the Street," which is basically just the ultimate walking out alone with nowhere to go tears running down your cheeks song.
But down a few notches lower I was shocked to find a story about a songwriter that I've never read a single word about, which just goes to show that like Voltaire essentially wrote in Candide there are just an endless number of less publicized stories of agony and pain in the world.
I've been trying to be more upbeat lately, but this story and its obscurity really got to me.
This is all Wikipedia has on him although see the comments maybe it isn't all true.
"Rodger Penzabene was a songwriter for the Motown label. Among his most notable compositions are "The End of Our Road" by Gladys Knight & the Pips and Marvin Gaye, and a trilogy of three hits for the Temptations: "You're My Everything", "I Wish It Would Rain", and "I Could Never Love Another (After Loving You)".
The mournful break-up song "I Wish It Would Rain" in particular drew from Penzabene's real-life pain. The songwriter found out that his wife was cheating on him, but could not bring himself to leave her, and his emotions on the situation are present in both of his final compositions, "I Wish It Would Rain" and "I Could Never Love Another". On New Year's Eve 1967, a week after the release of "I Wish It Would Rain", Penzabene committed suicide."
Holidays are killers for the true romantics. Wish you had hung in there Rodger.
I Wish It Would Rain
Sunshine, blue sky, please go away,
My girl has found another, and gone away
With her went my future, my life is filled with gloom,
So day after day, I stay locked up in my room
I know to you it might sound strange, but
I wish it would rain (oh how I wish that it would rain)
Oh yeah, yeah, yeah
Cause so badly
I wanna go outside (such a lovely day)
Everyone knows that a man ain't supposed to cry
But listen, I got to cry, cuz crying, ooooooooh,
Is the pain, oh yeah
Yeah you know people, this hurt I feel inside,
Words, they, could never explain,
I wish it would rain (oh how i wish that it would rain)
Oh let it rain, rain, rain, rain (oh how i wish that it would rain)
Ooooooh baby
Let it rain (rain, rain)
Oh yeah, let it rain
Day in day out, my tear stained face
Pressed against my window pane
I search the skies, well, desperately for rain
Cause rain drops will hide my teardrops and no one will ever know
That I'm crying (crying) crying (crying)
When I go outside
To the world outside my tears I refuse to explain,
I wish it would rain (oh how I wish that it would rain)
Rain, rain, rain (oh how I wish that it would rain)
ooooh baby
Let it rain
I need rain to disguise the tears in my eyes
Yeah, You know I'm a man, I ain't got no pride,
Til it rains, I'm gonna stay inside,
Let it rain, Let it rain
Oh yeah, yeah, yeah, yeah…
Oh how I wish that it would rain…