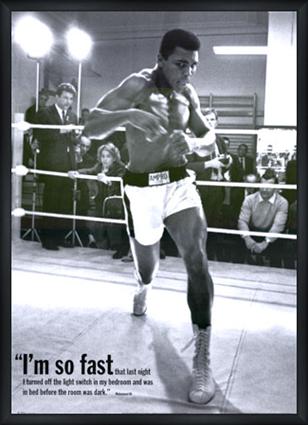 I've stood in line to shake the hands of only two people in my life, Ray Davies and Muhammad Ali.
Both were at book signings and I highly recommend both of the books. Sadly for my finances, even though I had already purchased and read both books, I had to buy another copy of each to get my handshakes.
Ray was promoting X-Ray, his "unauthorized autobiography" on Height Street of Height Asbury fame.When I got up to him in line, I asked him if he wouldn't mind signing both the new book that I had purchased as well as the curry stained edition that I had actually read. Luckily, he wasn't bothered by the notion of his life story having been splattered with my usual Hunan lunch.
I skipped out of work to shake Ali's hand. Ali and Thomas Hauser were promoting Hauser's oral biography of Ali. The man in front of me in line was a Black Muslim. He wanted the champ to autograph a famous photograph that he had of Ali and Malcolm X. This presented some problems:
1. Because of his trembling hands, he wasn't signing anything, they were pasting his autograph into the books.
2. It had to bring back sad thoughts about how he and Malcolm ended up. I think that the two eventually made the same journey to true Islam, but Ali was misled about Malcolm and spoke out against him after he had left the Nation. This rift was never healed due to Malcolm's assassination.
3. I really think Ali felt bad that he had let the kid down. Even though he might not have wanted to sign the picture had he been healthy.
So when Ali shook my hand, he was a bit distracted, but here's the holiness of the man to me. When he noticed my disappointment, he turned his attention immediately upon me and made that cool boxing pose that Red Foxx stole from him when he used to get mad on Sanford and Son. Imagine spending years and years shaking people's hand and caring about each and every one.