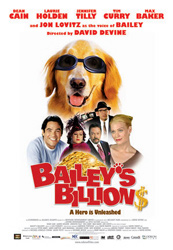 I'm not the happiest I've ever been but an incredibly stupid movie summary is always worth a smile. I checked out the description for Bailey's Billions on HBO, mostly because my cat was named Bailey. "Two embezzlers plot to steal a fortune inherited by a talking dog."
My love of Mr. Ed aside. I'd pay ten grand just to sit in on that pitch meeting.
"Sweet and savvy talking golden retriever, Bailey, is one doggone lucky pooch when his devoted owner, Constance Pennington, leaves him her entire billion-dollar fortune. Bailey is lucky, that is, until he becomes the target of an elaborately-designed dognap scheme hatched by Constance's nasty nephew Caspar and his money-hungry wife Dolores. The despicable duo's wicked plan is to ultimately gain custody of the canine so they can get their greedy paws on his inheritance. Unfortunately for them, there's a thing or two they don't know about Bailey. Not only does he have great street smarts, he has great pals too. Bailey's loyal guardian Ted, kind-hearted animal advocate Marge, her daughter Sam, and a clever border collie named Tessa set out on a hilarious madcap adventure to free their four-legged friend and put the nasty dognappers out of business-for good!"
Does being able to talk make you savvy if you are a dog or do you have to say clever things?