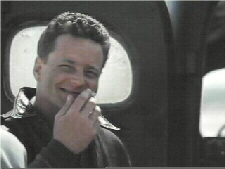 William Russ is a working actor, but I wish he were more than that.
He played the father on Boy Meets World for a bunch of year, but the place I first noticed him was as the bad ass burned out and betrayed undercover CIA agent Roger Lococco on the show Wiseguy. It was also where I first saw Kevin Spacey chew up scenery, but in my opinion Russ' Lococco was far more interesting. Lococco could kill people with these small silver ball bearings and called everyone Buckwheat. Once he called an African American Buckwheat and when the man was stunned offered up the semi valid "Hey, I call everyone Buckwheat."
Aside from a small role of Edward Norton's racist father in American History X, I've only seen him in one other meaty role worth his talent as minor league pitcher Roy Dean Bream in the movie Pastime. I went to see Pastime on opening night because of Roger and there were maybe three people in the audience with me. It wasn't a big hit and that's a shame because Russ was really good as a man who was given his whole life to baseball and doesn't know what to do now that he's hit the end of his road.
Like I said he works and I'm sure he's fine money wise, but I'd love to see him show his stuff in a Scorcese movie or something in a similar vein because as Lococco he was that good. Terrifying, personable, and tortured all at the same time,  one of my favorite characters ever.