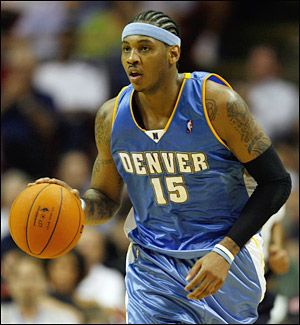 Am I bitter at my inability to make it in the journalism world? Hell, yes. I suppose it's my fault that I didn't study the subject at an accredited university, but somehow I think I could do better than this.
Last night the Denver Nuggets beat the New Orleans Hornets by 58 points, 121-63. USA Today honored the biggest road blowout in NBA history with a short article on the back page of its sports section by Rachel Shuster, who wrote that "It might have been even more dominating, but (Carmelo) Anthony sat out the entire fourth quarter."
Sounded logical to me until I looked at the box score and noticed that the Nuggets outscored the Hornets 33-13 in the fourth quarter. What, was Carmelo planning on shooting some 4 pointers before George Karl made him sit out the final period?