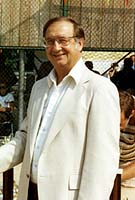 You have to applaud a life any time someone does something really well or epically badly.
Stepien did the latter. He was, and it wasn't even close the worst sports franchise owner ever. He ran the Cleveland Cavaliers so badly that the league had to make up a rule stopping similar incompetance. This was a guy who decided that the Cavaliers could use a polka fight song and liked to trade lottery picks to acquire players who averaged under five points a game. One of these picks turned out to be James Worthy.
The Viet Nam War was a ringing triumph in comparison.