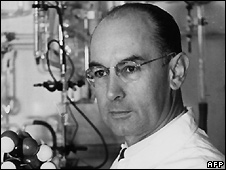 Albert Hofmann, the Swiss chemist who discovered the hallucinogenic drug LSD, just died of a heart attack at his home in Basel at the age of 102.
Well, a young man in what I hope was an idealistic tribute got himself into a little trouble last night.
This entire news entry is hilarious, not to mention that I've never heard the term "gorked" before, but I think you'll have to agree upon reading it that the funniest part of the story is the final line
The teen's father Mark Rosenberg says the boy will be punished, adding "he probably won't get to use the car for a while."
SANTA CRUZ – A mother's frantic 911 plea for help finding her injured teen son lost in the Santa Cruz Mountains led to an expensive search that ended with rescuers locating the youth stoned on drugs.
Eighteen-year-old Matthew Rosenberg had used his cellular telephone Monday night to call his mom and tell her he tripped, broke his leg and was lost.
But Cal Fire Capt. Bill Finch says the Los Gatos High School senior didn't break his leg, adding the teen had apparently swallowed hallucinogenic mushrooms, possibly dropped some acid and just "thought" his leg was broken.Finch says the teen "was really gorked" when rescuers found him standing at the bottom of a ravine. The cost of the search was estimated at up to $10,000.
The teen's father Mark Rosenberg says the boy will be punished, adding "he probably won't get to use the car for a while."