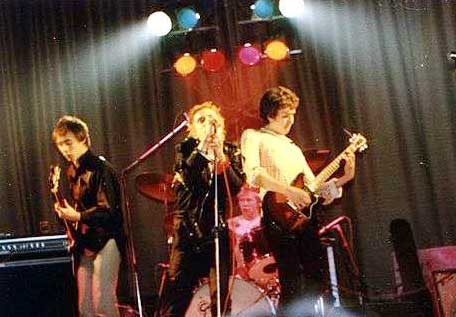 I suppose to really be able to make the claim that you are completely with it you have to have had some great concert going experiences. Usually the earlier you see an act the more hip you seem. Someone out there saw The Beatles at the Cavern Club, The Who at The Marquee, or The Doors at The Whiskey A Go Go. Although time has brought esteem to anyone lucky enough to have seen The Beatles in person, the smaller the show the more status you deserve. The Fab Four's Shea Stadium sell out and their final performance at Candlestick Park are huge historically and it would be cool to have been there, but chances are those people didn't really hear much music. I can't stand the Greatful Dead, but I would have to give props to anyone that saw them playing Golden Gate Park in the Summer of Love.
 
I'm pretty proud of my musical tastes, but I haven't really been lucky or cool enough to be at the right place at the right time for many big time history worthy gigs. I did see the Jackson 5 in 1973 when I was eight or so, but all I really remember about that night was a really young Janet doing her Mae West impression. Nevertheless, even from an early age I was proud of the fact that I had a Jackson's poster on my wall, while having no interest in the Osmonds whatsoever.
 
Probably the coolest concert I ever attended was an Elvis Costello show in Chicago during the mid '80s. He had this huge spinning wheel, with his own and other people's songs on it. Fans were picked from the audience to spin it and whatever song came up on the wheel would be the one the band played. I think I also got to see Prince at his peak when he had Sheila E in his band around the time of his Sign 'O the Times album.
 
Sadly I have tons of shows to forever be embarrassed over. I think I saw Asia like three times in high school. I saw the Clash without Mick Jones. I saw the Who without Keith Moon. I saw both Roger Waters and David Gilmore do solo shows after breaking up Pink Floyd. I saw Yes without Steve Howe. One time I excitedly brought my friends to see the Fleshtones incredible stage show at a small club, and we were forced to watch their entire show without ailing lead singer Peter Zaremba. It was a lot like seeing Cream without Eric Clapton. It's all pretty pathetic, but at least I never paid money to see Rush.
 
Here are the twelve gigs I'd most like to have been at in chronological order.
1. Charlie Parker and Dizzy Gillespie jamming in a small New York club.
2. Elvis on the Milton Berle show. The one where he sang "Hound Dog" and extended the song for about three minutes of silly grinding ecstasy.
3 Buddy Holly's last show. I'd even be willing to sit through The Big Bopper.
4 Little Richard filming his nightclub scenes for the movie The Girl Can't Help it. He's otherworldly in that movie.
5. The Beatles in Hamburg the night they finally managed to destroy their stage. For some reason, I'm fascinated with exactly how much bass Stuart Sutcliffe really played back then. A Sex Pistols appearance with Sid Vicious would be a similar thrill. Being in an office across the street from the Fab Four's final rooftop appearance would have been neat too.
6 The Who the night Pete Townshend accidentally snapped his guitar's neck on an overhang and seconds later smashed his first guitar.
7. Keith Moon's 21st birthday party. A performance in and of itself, Moon was only turning 20 but he figured if he had a big 21st party that word would get around that he was old enough to drink. Final tally one Rolls in the pool, and The Who forever banned from all Holiday Inn's
8. Jimi Hendrix the night Pete Townshend and Eric Clapton first saw him play and were supposedly so overwhelmed they each seriously thought about giving up the guitar
9. Jimi Hendrix performing Sgt. Pepper's Lonely Hearts Club Band a day or so after the album came out with Paul McCartney in the audience.
10. The Doors, the night the police maced Jim Morrison, and not the night where he may or may not have exposed himself.
11. James Brown in Boston the night Martin Luthor King died. They broadcast the show on television and Boston was the only city with a large black population that didn't riot.
12. Any show where the Clash and the Sex Pistol's shared the same stage, although if they wind up doing a reunion package in Vegas that wouldn't count.
 
Unless the super group that was Asia makes a huge resurgence, I may eventually be forced to lie like a banshee to my kids or anyone else who looks gullible.