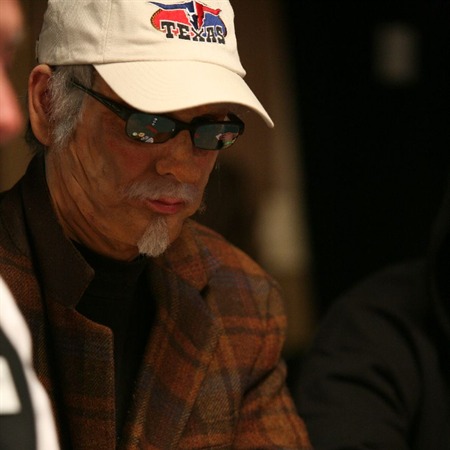 Dude played the main event of the World Series of Poker in a costume, busted out and nobody figured it out until much later. Hilarious!
From Poker News:
The Amazing Phil Laak
We've got to give some credit to one of our frequent Shoutbox posters, "fastasleep," for sparking the following investigation, as it looks like we've been duped by the very clever Phil Laak…
On our WSOP registration list for Day 1d, Phil was slated to be in Amazon Blue, Table 33, Seat 8. Our reporters then scanned the area and informed us that he was nowhere to be found. Perhaps an error with the registration list? No worries… it happens. He'll turn up eventually, right?
Hours had passed and there was still no sign of Laak when we noticed fastasleep's Shout Box post:
fastasleep [37 minutes ago]:
"Guys – what's up with Phil Laak….I read a news article that saud [sic] he showed up today with an altered appearance, courtesy of a latex mask, make-up, and a false mustache….? Did anyone get any pictures?"
To borrow one of Phil's most frequently used lines, "Sick… So sick."
At this point, we started doing some investigative reporting and spoke with a few players at the table who'd been there all day.
"Was Phil Laak in the eight seat to start the day?" we asked Alejandro Parada and Cary Anderson.
"Never," said Parada. "That guy was old and he never said a word."
"The guy in that seat came in late, but he was real old. I watch that show I Bet You all the time and I'm sure it wasn't Laak," said Anderson.
A brief discussion ensued at the table and soon thereafter, Anderson altered his original supposition:
"You know, the more I think about it, the guy had a big scar… like a big worm. He wore a Texas hat, but I think he was older. I don't know — it's possible, I guess," he added.
Moments later, Anderson put the pieces of the puzzle together, giving us the following explanation (paraphrased):
"You know, the guy did come in late and when the dealer asked for his ID, he didn't have any. They then called the floor over and the man in question had a quick discussion with the floorperson away from the table before eventually returning to his seat. 'He's OK,' said the floorman to the table and the player took his seat without saying a single word."
The conversation sparked whispers and "What-ifs" amongst the remaining players on Table 33 and suddenly, the mystery was solved…
The dealer at the table had been sifting through the registration cards of fallen victims amidst the commotion and then he found it… Amazon Blue 33, Seat 8 — Phil Laak.
Needless to say, we missed his bust-out hand.
A clever stunt made for TV? Perhaps… An "I Bet You" prop bet with Antonio Esfandiari? Certainly plausible…. Being Phil Laak and playing an entire Day 1 of the WSOP Main Event incognito? Ab-so-freakin-lutely awesome.
Mr. Phil Laak . . . PokerNews salutes you!