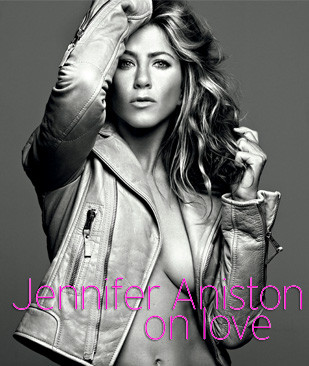 I always want to feel sorry and empathize with Jennifer Aniston's loneliness and pain, and then yet another hot photo spread of her comes out. Does she view these as dating profiles like on Match.com? Is she just desperate to convince herself that she's still hot? Does she think that she has to do them to remain a star?
Jennifer, you are rich, famous, and insanely hot. I am in all ways your opposite and I feel comfortable saying that my plight is sadder than yours. In fact, I'll bet the best day I've had over the last five years was significantly worse than the worst day that you've had over the last five years. The day you found out about Brad and Angelina – I'm guessing that you still had a really enjoyable facial that day, and that you probably got a lot of sympathy from Courtney Cox. I'd kill for some sympathy from Courtney Cox.
Brad Pitt will have to go down in history as the greatest chick hound of all time. He was married to the 2nd hottest girl in the world and had the gall and ability to dump her for #1.
Jennifer – feel free to call me. I will marry you and be your slave for the rest of our lives. You can degrade me in public or in front of your friends. You can even use one of those defecation pots that Paul McCartney wouldn't let Heather use in bed at night. I will tell you every night that you are the hottest and biggest female star in the Universe and would be crazy to adopt random kids from Africa and elsewhere.
Did that sound too desperate?