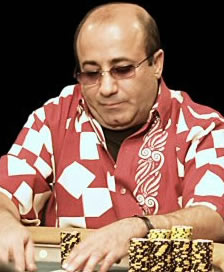 Daniel Negreanu: Would showing a bluff be good for the game?
If you're like most of the world, that's how you were introduced to Kaseem "Freddy" Deeb. It was at the 2004 $10,000 No Limit Championship Poker at the Palace event. Deeb was heads up with the popular and garrulous Negreanu. He had control of the event and the best hand. Holding AK to Negreanu's A7, Deeb bet out $16,000 at the K 6 2 board and Negreanu with no pair, no draw, and really only the ability to buy the pot, flat called. The rest is poker television history. Having heard Deeb mention that smaller bets scared him more than all in raises, Negreanu holding the Ace of hearts used the 4 of hearts that came on the river and put a possible flush on the board to take the pot away from Deeb. Seconds later Negreanu turned the knife in Deeb's back by showing the bluff, one that Howard Lederer providing analysis for Fox television called "one of the great bluffs of all time." Deeb still had the chips to compete with Negreanu, but the hand threw him off of his game and the tournament was all but over.
Now, Deeb has something else to be known for. Although the event ended at close to 5AM and almost everybody had gone home, Deeb was the last man standing after a grueling 15 hour final table and won the second running of the "real main event," the $50,000 Horse World Championship, the limit event that rotates between five of poker's most difficult limit games. 148 players entered the event and with the hefty price tag and the title of best pro alive up for grabs, none of them were weak sisters. On the first day of play, there were at least four huge name poker pros at every table. Last year's final table was perhaps the most prestigious of all time including, Doyle Brunson, TJ Cloutier, Phil Ivey, Andy Bloch, and eventual winner Chip Reese. On day one, I asked Deeb what he thought of the competition at his starting table, which included both Negreanu and Marco Traniello. Deeb wasn't impressed, and four days later with the bracelet on his wrist he was proved correct.
The diminutive Deeb fled Lebanon, the country of his birth, during the civil war of the 1970's and took to poker after failing to obtain a work permit inside the United States. It was Deeb's second World Series bracelet and earned him $2,276,832, but Deeb has plenty of money. For the next year, the friendly, smiling Deeb holds the title that everyone, Negreanu included, was dying to put on their resume. Now, perhaps someone can talk to Deeb about those multi-colored clash with everything "lucky" shirts he loves to wear. Then again, when you're on top of the poker world you get to wear whatever you want.