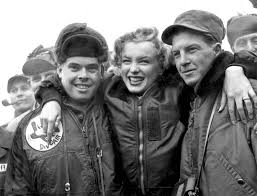 I want you to know that I believe that sexual harassment is never appropriate, and that I support consequences for any and all bad behavior anywhere.
However, this is also another conversation that needs to be had.
The role sexual attractiveness plays in our society. The fact is that almost all straight men no matter how good or bad are visual and appreciate seeing beautiful and sexually attractive women. This is not lost on America. Witness pretty much every commercial that has ever been filmed.
If you want to know who it is that Americans discriminate most against, it is the women that are considered to be overweight and unattractive. When I purchased cigarettes in my expensive Chicago apartment building, I would often wait in long lines filled with overweight, likely impoverished, African-American women buying lottery tickets, and I realized that part of this phenomenon was the sad fact that for those women playing the lottery was actually the best and most logical way to get rich in America even given the astronomic odds of actually winning one. Oprah is of course the exception that proves the rule, and perhaps one of the greatest social phenomenons of the past 50 years. There was an audience and huge money for her and her message.
Here is a clip of recently revealed groper Dustin Hoffman pretending to care about this, when he is really just patting himself on the back for starring in the movie Tootsie.
Now when that aired, I must admit I laughed at it. Not because what he was saying wasn't true, but because even he really isn't that good of an actor. He was still going to keep hitting on attractive women. He wasn't going to seek out wallflowers to enlighten himself. He was just using a serious issue to make himself look better. Maybe I'm doing that now.
When John Lennon decided to change collaborators from Paul McCartney to Yoko One. He was appalled by the number of people who were shocked and dismayed. He was appalled by the members of the media who called Yoko ugly even though he had never seen the press call anyone ugly. Even the pro-Yoko people said the less than laudable, "Well look at her he must really love her because he could have his choice of the most beautiful women in the world."
One of the ways they (and I do mean they because Lennon insisted that he be referred to from this point on as John&Yoko) dealt with this issue was appearing in a bag, which they called "total communication", because their looks had nothing to do with their views.
Later they became less subtle, but no less committed or accurate.
That was over 40 years ago and nothing has changed.
John Lennon was a flawed angry person who did his best to evolve. He hit his first wife, and I don't know for sure whether or not he did the same after he became conscious of his issues, but one thing he believed in was the truth, and for the most part the reason people know that Lennon was guilty of domestic violence is because he told them about it.
I used to be cruel to my woman
I beat her and kept her away from the things that she loved
Man I was mean, but I'm changing my scene and I'm doing the best that I can
Recently, perhaps my favorite politician Al Franken resigned due to allegations of inappropriate sexual behavior towards Leeann Tweeden during a USO tour.
Most damning was the following photo: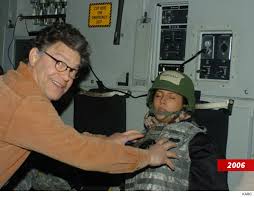 My liberal friends said that this was a plot by the right wing Tweeden, and that she wasn't asleep and may have in fact been in on the joke. I disagreed. Even if she was in on the "joke" the photo was wrong because it implied that doing this to a sleeping woman was somehow funny.
I don't know what Tweeden's motives were or how bad these events truly were, but I do want to point out some things about women in American society.
1. Tweeden was on that tour because she was an attractive and sexy female. Ever since Bob Hope started entertaining the troops, the one staple of his act was bringing beautiful women along to show our lonely fighting men exactly what they were fighting for. Marilyn Monroe could act and sing, but that's not why she was brought on the above tour. This followed down through the years with Brooke Shields and Leeann Tweeden.
2. Just about every job Tweeden has had has been a function of her good looks.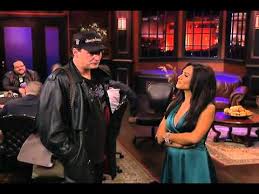 I first became aware of Tweeden through her co-hosting job on the overall sausage fest that was the NBC show Poker after Dark. It was poker played by almost all men for an audience that was likely at least 90% male, and Tweeden was there as eye candy. You can see this in almost every poker show and even football and basketball games with varying levels of hypocrisy. There are some knowledgeable sidelines reporters, but mostly they are there because of their looks. Just recently Cam Newton was criticized for mocking a woman reporter for actually asking an intelligent question.
Erin Andrews was an ESPN sideline reporter who a creep leered at through a peephole in her hotel room, she sued and won 55 million dollars.
http://deadline.com/2016/03/erin-andrews-wins-55-million-peephole-lawsuit-espn-dancing-with-the-stars-1201715915/
This should never happen to anyone, but again and please don't get angry. Erin Andrews' career was largely made through her attractiveness.
Also, this has gotten slightly better recently, where this role has often been played by Mario Ho, who is actually a poker player.
Tweeden also was paid for nude photography spreads, which is something that she has in common with our current first lady. What does Melania see in Donald Trump? Probably only money, and money is the only thing that trumps the male sex drive in this country.
When Hugh Hefner died there was a debate about whether or not he had exploited women. Well of course he did, but aside from his first pinup (he purchased the famous pictures of Marilyn Monroe), I'm pretty sure that he paid all the women who appeared in his centerfolds, and that there was intense competition to take place in that exploitation.
The fact again is that men are visual and will pay money to see sexy women. Does that mean that women who like to dress sexily are baiting them? Not at all, but it is a fact. I was actually shocked in a positive way that when Rose McGowan came out against Harvey Weinstein that nobody criticized her for the barely there dress that she wore when she attended the VH1 Awards with her then boyfriend Marilyn Manson. The she was asking for it defense is deplorable.
As for Franken, maybe I'm the only one who remembers his HBO special with partner Tom Davis where they "hilariously" bragged about having sex with all of the original female cast members of Saturday Night Live. That was over 30 years ago and I believe that he has realized it hasn't aged well and thought about these issues, but it's still out there.
My point though is that we also need to have a discussion about women who advance over women not because of talent, but because of their looks. I just took my niece to see the very good movie Lady Bird. The movie is about women and made by women, but still it stars an extremely beautiful woman playing the role of a plain young girl. Her best friend, who she banishes for a while is the overweight one. Charlize Theron was amazing in the movie Monster, but notice how many Oscars have been won by incredible looking women who were made less attractive through either make up or quality acting.
Nearly, every single product sold on television is done though sex. Flo from Progressive is an exception (actually sort of an annoying one if I'm to be honest), but the truth remains if you want to make a commercial, or a music video, or have a newscast, you need a hot woman.
I have no idea what the answer to this is. I love seeing attractive women who wear attractive or quirkily attractive clothing. I don't want to see all women in bags or burkas, but we do as a world need to figure out what to do about the fact that sex sells. Fox News was a bastion of sexual harassment and featured tons of really attractive women discussing the news of the day. Are those women bright, most likely definitely. Are they the brightest and most qualified for that job minus their appearance, almost certainly not.
I for the most part think that the answer to this is the same economic arguments that Malcolm X made for African-Americans, and I am a wholehearted supporter of Reese Witherspoon and her DIY espousing speech below.
Now is it better for women, when pornography is run and produced by women, or when women make their own movies starring their own choices of attractive stars? It can't hurt, but it doesn't change the fact that beauty is valued in this country over competency and talent.
I in no way want to criticize beautiful women for the success they have gained as a result of winning the genetic lottery. That happens with most men and women in every facet of society. My other niece works harder than her friends at school and was deeply hurt when her best friend, who had barely worked at all got better ACT scores than she did. A lot of success in life is determined by the time of conception. Life is unfair is the first thing most parents should probably teach their kids. Ignoring it doesn't help. Still it is my contention that:
When the smartest most capable women are on NBC and not NPR; when an actress who is not Meryl Streep or Kathy Bates can still work in Hollywood past the age of 40; when men actually really consider the fact that the prettiest woman in the room isn't necessarily the one who has the most to offer; that is when we will all be equal.