Posted on
November 8th, 2009
by keithcrime //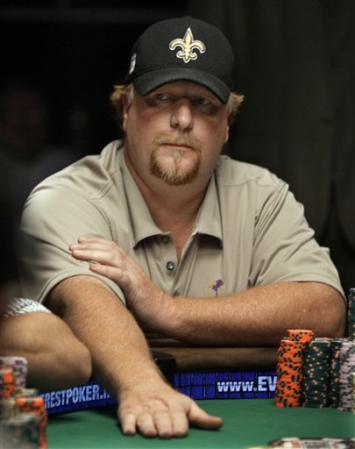 Oh my. What it must be like to be blessed by God like Darvin Moon. He just made an atrocious move and got paid off big time. Since the victim was ex-Bear Stearns honcho Steve Begleiter, who knows whether anyone cares.
He did it again with the same hand that he slayed Ivey with AQ.
Norman Chad: AQ never wins
Well, unless you are Darvin Moon
With the blinds 300k – 600k, Begleiter made it 1.6 million and Moon shoved all in. An absurd overbet, especially given the hand that he held.
Of course, Begleiter had to have a much better hand to call and he did – Queens. Moon was only 30% to win the hand. Down to three outs on the river, the super lucky Moon donked his way back into the chip lead when the Ace of diamonds hit.
OH THE HUMANITY!
Moon was about 7% to beat both Ivey and Begleiter and managed to defy the odds and show the poker world how little skill there can be at times in this cruel, cruel game.
Here's the tweet from Joe Seebok
"Holy shit. Darvin Moon running filthy. Busted Begleiter with AQ vs QQ…Ace on river. Wow"
Apparently, logger Moon isn't exactly winning gracefully – here's Poker News describing the scene after the amazingly, unfair suckout
"It is pandemonium — again! — in the Penn & Teller Theater. The ace on the river gives Moon the best hand, sending a stunned Begleiter crashing to the rail. Darvin Moon isn't moving, showing absolutely absolutely no reaction to the dramatic elimination of Begleiter.
For those keeping track at home, there is no interchange between Begleiter and Moon as Begleiter makes his exit. He shakes hands with everyone at the table except Moon. To be fair, Begleiter doesn't seek Moon out — but Moon doesn't offer Begleiter a hand either.
Moon reclaims the chip lead with 63.9 million."
Can you imagine having no reaction whatsoever after a 40 million chip suck out?
Darvin Moon – 63,925,000
Eric Buchman – 53,250,000
Antoine Saout – 51,725,000
Jeff Shulman – 15,525,000
Joseph Cada – 10,350,000