Posted on
July 31st, 2009
by keithcrime //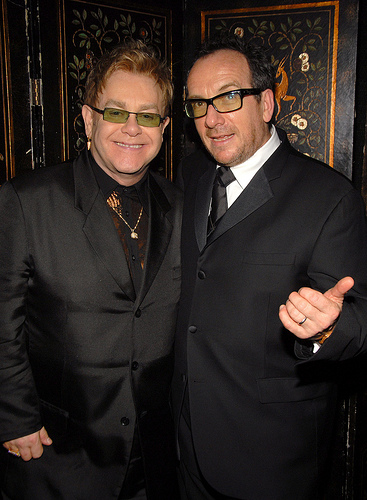 This matters to no one else but me, but that goes for 90% of my content. I was remembering having Elvis Costello walk by me outside of the Riviera Theater in Chicago. Thanks to the internet I now know that it was 10-13-86. Anyway, I know it's been like 23 years, but I was shocked then at how tiny he was.
I'm 5'8″ so he had to be like 5'3″
So I look it up on the internet and imdb says he's 5'10"
No fucking way.
That's a picture of him with Elton John – they appear to be the same height. Elton's listed at 5'7″ on imdb.
No fucking way. Those guys are 5'4″ tall tops. I'd bet my life on it.
More relevant, here is this video of Elvis' return from being banned from Saturday Night Live.
Elvis was banned from SNL for switching songs on Lorne Michaels and playing Radio Radio instead of Less than Zero back in 77.
Here is Elvis' return to SNL by interrupting the Beastie Boys' Sabotage the exact same way to again do Radio Radio.