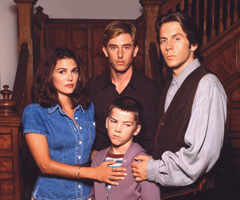 I don't know what this says about our modern civilization, but I just searched American Gothic and that picture and this synopsis came up
Everything is not what it seems in Trinity, South Carolina. Sheriff Lucas Buck develops a sinister interest in Caleb. Caleb's cousin Gail tries to protect him, but that's complicated since she has feelings for Sheriff Buck. And Caleb's dead sister, Merlyn, returns as an angel, warning him that Buck is an incarnation of evil – and may not be human. 
sorry about this, but  I HAVE TO SEE THIS F-ING SHOW!!!
I don't care how uncivilized it makes me look – I'll buy this thing on DVD – Is this a religious soap opera or gay porn – I have no idea!
Upon further inspection –
http://en.wikipedia.org/wiki/American_Gothic_(TV_series)
I actually remember that show now – it was the Shaun Cassidy horror thing
Ok, now I no longer need to see it.
I was hoping it was like a religious soap opera where there was actually nasty stuff going on. Christy skipped one day of church and now she's walking the streets. That's the kind of plots I'd air. Hard core religious people want  smut you just have to convince them that it promotes their message.