Posted on
August 26th, 2007
by keithcrime //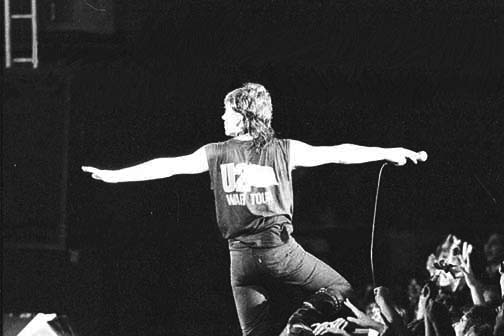 It's pretty easy to dig the Beatles or the Stones years after the fact. It's special though when you hook onto a band on their way up and they never let you down.
When I grew up in Cleveland The Plain Dealer boasted proudly of their 60 year old Rock critic, which I suppose there was a place for but I wasn't in the mood for it especially in a one paper town. I remember her writing about how nobody dug the new bands – something to the effect of "Does anyone out there really want to look and dress like Bono?" To which I was like Jesus, that's about the only person I do want to look and dress like.
When I first heard New Year's Day, I was blown away. Then I saw them at the US Festival, Bono peering at the statue of John Lennon and declaring his everlasting worship that he'd already shown by copping a Lennon title in Sunday, Bloody, Sunday which started out with the oh so Lennonish "I can't believe the news today."
I remember my buddy Jim Barber and I waiting anxiously for the Unforgettable Fire to come out praying that they wouldn't let us down, and not being disappointed even if Bono screwed up the time of day Martin was shot down.
I saw their last small stadium tour when they played the Aragon in Chicago.
It's easy enough for people to turn on a band when they get to big, but I never did.
Too many people were so proud of themselves for claiming they had sold out to Apple. Elton John and Madonna can apparently bring themselves to orgasms over diet soda but U2 is evil for aligning themselves with a site that distributes music without taking a fee. There are plenty of sell outs out there, Bono, whether at his worst has never been one of them.
He may be naive. He may be overly idealistic, but in my mind he's tried to live up to the challenge of John Lennon better than anyone. No one is perfect, especially rich rock stars, but until I see a mountain of evidence to the contrary – he's at the top of my list of successful celebrities. He didn't die when he was young. He hasn't sold out his muse. He's done his best to have a sense of humor, while being deathly serious.
Dying at 27 or younger is a great way to never have to look in the mirror past 50 and be disgusted. Making it the whole way with your wits and your entire band in tact is 1000 times more impressive.