Posted on
September 11th, 2009
by keithcrime //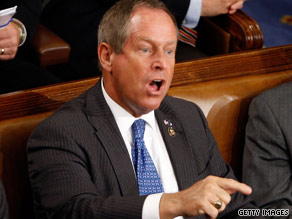 I liked the old days when they threw shoes.
Less than a day after Rep. Joe Wilson formally apologized to President Obama over his "you lie" outburst, a campaign aide confirms that the South Carolina Republican has raised "more than $200,000" in the wake of the now-infamous moment.
News of that cash haul comes after Wilson directly asked in a Web video for campaign cash to fend off attacks from political opponents and said he's standing by his opposition to Democratic efforts at health care reform.