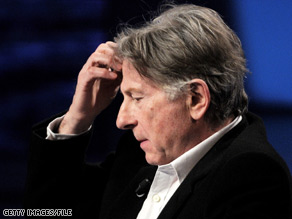 LOS ANGELES, California (CNN) — Attorneys for Oscar-winning film director Roman Polanski are asking a California court to dismiss a 30-year-old sex offense case against him, claiming prosecutorial and judicial misconduct. Polanski's defense team offers what it calls "extraordinary new evidence" of "repeated, unlawful, and unethical misconduct" by the Los Angeles District Attorney's Office and the judge in Polanski's case based on details that surfaced this year in an HBO documentary.
Hmm, let's see dude drugged and raped a 13 year old and then fled the country to escape jail time, and now he wants to skate on a technicality. Nice.
How about this. Roman comes back to the United States and takes his chances. If the court agrees with him, he gets to go back to France. If not, he shares a cell with OJ (nah, I'm not even cruel enough to suggest having him shack up with Charles Manson).
I'm guessing that Roman will stay in France where they have a more "mature" view of his taste for very young women.