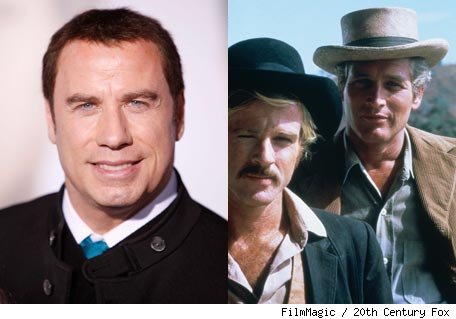 http://www.popeater.com/2009/11/11/john-travolta-butch-cassidy-and-the-sundance-kid/
John Travolta is excited about possibly starring in a remake of the classic 'Butch Cassidy and the Sundance Kid' with buddy Tom Cruise.
"Someone came up with a good idea – it was a remake of 'Butch Cassidy and The Sundance Kid' – and there was a rumor that we were gonna do that, and I said to Tom, 'It's not a terrible rumor, it's not a bad idea,'" the 'Grease' star said.
Access Hollywood's AH Nation and PopEater want to know if you think an update of the film with Travolta and Cruise — the original starred Robert Redford and Paul Newman — is a good idea?
This is a practical joke right? Is it April 1? Is Ashton Kutcher in a van nearby?
Let's put it this way. If God came down and told me that the end to all suffering on this planet – war, famine, death, hate, illness, obesity, bad hair days, having to work 5 of every 7 days, etc – would all come to an end forever the second I green lit this project.
My answer would have to be – can you give me a couple of days to think about it?
—————
I hate to even give this credance, because that film should never ever ever ever ever be remade,
but if it were the casting is obviously George Clooney as Butch and Brad Pitt as Sundance