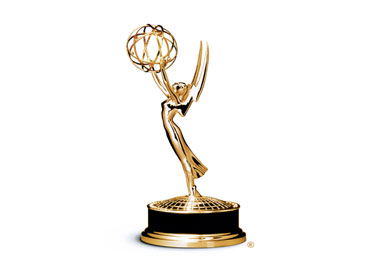 God, I want to say how incredibly lucky I am to work with such amazing talented people. I wouldn't be here, if it we're for my wonderful co-stars and writers. I'm so honored to have been nominated with the other amazing, incredible people in my category.
Oh, and Hayden Panettiere has really nice breasts. She's of age right?
Kathy Griffin, of course, won her award on a different night, which is what happens when you are likely to say "Suck it Jesus!" in front of millions of people.
OK, just to be fair – this show has been pretty brilliant. They honored Tommy Smothers. Ricky Gervais accosted Steve Carell. And Josh Groban singing 30 TV theme songs including South Park, The Fresh Prince of Bel-Air, Baywatch, and Cops was really amazing. First that guy participates in the Jimmy Kimmy "I'm fucking Ben Affleck" thing and now this. In the age of William Shatner "I always sarcastically meant to suck irony" – it's really becoming impossible to hate anyone.
By the way Shatner totally stole that from Adam West, who deserves royalties.
That doesn't mean I'm not willing to try though and that's what really matters.