Posted on
December 1st, 2008
by keithcrime //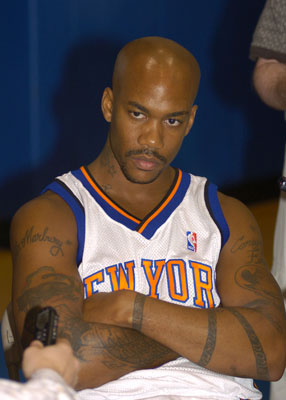 Look, it's clear that this dude is not the most team friendly basketball player in the world, but the Knicks are just on crack and looking for a way not to pay him that silly contract that their former idiot in charge Isaiah Thomas gave him.
The new coach comes in and tells a guy that they are paying $21 million that he's not good enough to be the twelfth man on the team; that he's not good enough to play a single minute!
If he's that much of a Cancer, fine so be it, but to suddenly ask him to fill in for a couple of games while you are shorthanded is ludicrous. I don't blame the guy for refusing one bit.
The Knicks mishandled the situation royally. If you can't deal with the guy, trade him before the season, but you don't stick him on the bench in his own personal doghouse and then expect him to suddenly rise to the occasion like you're his mother in need of a kidney. The team clearly decided to use him as a scapegoat for the entire Isaiah era.
"I sat there for three weeks and didn't say one word," Marbury told the Post. "I didn't hear one of my teammates say, 'Why isn't Stephon Marbury playing? This is a good system for him, even to play with the second unit and bring more firepower.'
"When things got bad and then worse, guys like Quentin Richardson say, 'I don't consider him a teammate. He let his teammates out to dry.' He didn't care I was his teammate when I was banished. They left me out for dead. It's like we're in a foxhole and I'm facing the other way. If I got shot in the head, at least you want to get shot by the enemy. I got shot in the head by my own guys in my foxhole. And they didn't even give me an honorable death."
Dude's been an idiot ever since he abandoned Kevin Garnett in Minnesota, but this time he's right.