Posted on
July 19th, 2009
by keithcrime //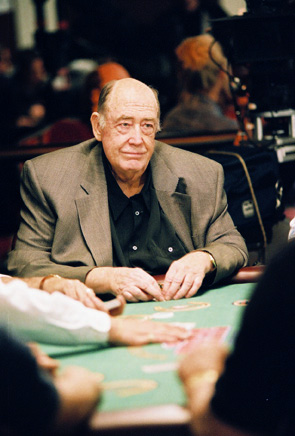 From Doyle Brunson's Blog
The poker games are out of control at the Bellagio. I've never seen games where so much money is won and lost each night. I've only played in the game twice because it is PLO, which I consider my worst game. I won both times but have been content to play in the "baby games", 2-4k and 4-8k mixed games. The Chinese Poker has been even bigger. We played $15,000 a point last night, 4 handed and 2 waiting. I had a 2.1 million dollar swing in less than an hour. Now that is gambling!
I get asked how in the world do you handle the ups and downs. The first thing you have to learn is how to endure disappointments. Sometimes I feel like a salmon swimming upstream to spawn. I always try to remember what my personal hero, Jim Valvano, said.
Valvano was the coach when North Carolina State beat Houston for the NCAA Championship. A few years later he contracted terminal cancer and gave an unforgettable speech on national TV. I remember he said, "This cancer can kill my body, but it can't kill my spirit. Always remember, don't give up, don't ever give up."
I try to do just that.
Nice to follow the I'm an inveterate gambler with the spiritual never give up message.
Chinese Poker from what I've read is basically pure luck. So losing 2 mill in a night seems a bit extreme. Doyle's like 100 why the hell does he have a blog – does he really need to be promoting?
As for the games he can't afford, essentially if you play 8 or 9 hands and do nothing but fold you lose $12,000
I swear one million and you'll never hear a word of complaint from me