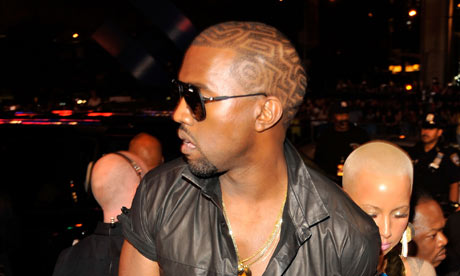 I know from personal experience that the last time in the world that you want to have a really goofy haircut is right after you do something really stupid.
Jay Leno's initial success as host of The Tonight Show is linked to getting Hugh Grant to apologize for his late night skank out with Divine Brown "What were you thinking?"
Jay must have been really excited that he conveniently had Kayne West booked for the opening night of his "Can I set expectations any lower" 10 o'clock Jay Leno Show debut, but like the entire show, which was painfully awkward, the Kayne confrontation was just painful. Jay tossed the equivalent of "What were you thinking?" at Kayne and mentioned his dead mother. In response, Kayne just painfully looked at the floor with glazed eyes as if he had just engineered the holocaust. And then they made him rap with Jay-Z and America's most famous domestic violence victim since Nicole Brown Simpson. It was truly one of the most uncomfortable moments in television history.
And you know what? Even after having three months to prepare, the rest of Jay's show was just as painful. I thought that Jay would just ease into his new time slot with his usual middle of the road banality, but wow, for some reason he couldn't even do that. The debut of the Jay Leno Show was minute for minute perhaps the most painful hour of television that I've ever seen. Patrick Swayze had a more enjoyable night.