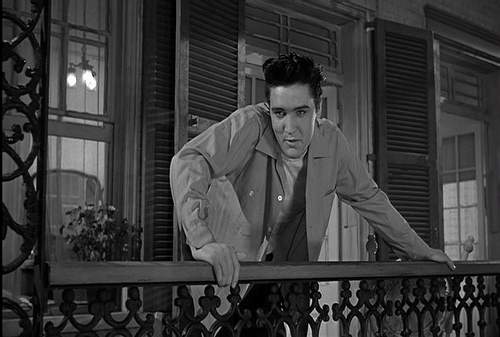 Welcome to Elvis Noir, also known as the Encyclopedia of Cool, Volume Three. Everyone says that King Creole was Elvis Presley's best film, but what they are really saying is that it doesn't  have much competition either. When Elvis got drafted by the army, his only request to the Government was for permission to finish King Creole before entering the army. It was his best effort at proving himself to be a legitimate actor and the heir to his hero James Dean's throne. Elvis was excited about being directed by Michael Curtiz, perhaps on the downside of his career but still the guy who orchestrated Casablanca, and the film does an amazingly good job of doing that leading many to believe that Presley could have been an inspired actor had he not been steered down the river by Hal Wallis and Colonel Tom Parker into the generic "Elvis drives a speedboat" type of movie he would sleep his way through in the 60s.
King Creole is shot in a dark and dingy black and white. It's opening paints the streets of the district as the singing street vendors announce their wares to the waking city. Elvis situated in the seediest part of town sings a sizzling duet of "Crawfish" with Black female vocalist Kitty White. White and Presley often sing simultaneously with White singing in a traditional Creole fashion while Presley is all over the vocal scales adding uhs and ums of hubris, dressed in official JD gear, white T-shirt and blue jeans. Later in the movie a comedian asks the Presley's Danny Fisher what planet he learned to sing on and he's not far wrong. The whole sequence is literally the definition of sensuality and soul.
King Creole although based on a Harold Robbin's novel is truly Rebel Without a Cause with the stakes raised. The movie takes the Jim Stark character and throws him to the ghetto. It takes Dean's confliction and dissatisfied feelings for his father's weakness, and turbo jets them to anger and disgust. Presley's potential hoodlum knows exactly what he wants from the world, money and respect. He's not conflicted he's pissed, reeking of sexual energy and looking for trouble. The kids Presley tangles with here are actual gang type crooks not bored suburban punks, and Creole's look, tone and feel are considerably darker. Danny Fisher's world has none of the brilliantly colorful possibilities of Stark's. Jim Stark was having a mild identity crisis. Danny Fisher's life is hurtling to almost certain doom.
The musical numbers are as one would suspect pretty unbelievable. Elvis was in his swaggering prime here and this would be the last time he would ever be filmed singing this aggressively and audaciously. When he was desperately in need of credibility during his Comeback Special of 1969, he would reach back to the song Creole's Trouble, which was angrily sung by Presley to lowlife gangster syndicate runner Walter Matthau as Maxie Fields. Field questions Presley's word and mettle and Elvis answers with the famous couplet "If you're looking for trouble/You came to the right place" and he means it. Additionally, all the songs serve the tenor and plot of the movie as opposed to being a mere break for another Elvis performance.
Elvis handles his side of the acting portion as well. His Danny Fisher is brave, angry, and will under no circumstances ever back down. He glides and dances his way through the movie like it was a ballet. Carolyn Jones plays Ronnie, the drunk and depressed bad girl singer trapped in Matthau's downbeat no future world. As the only honest man in town says, "Everything he touches turns to drink." She would later be Morticia Adams on TV, if you aren't aware of  this the film will drive you batty trying to figure out where you know her from. Dolores Hart plays the good girl instantly infused with love for Presley on first sight. Even her goodness is tempered here with desperation and the expectation of failure.
Below the surface there is the very entertaining Vic Morrow, for my money the true number one Juvenile Delinquent of the fifties. Here and in Blackboard Jungle he's rude, dangerous and downright mean. Presley's knife fight with Morrow almost makes you think about Elvis and Jerry Lee Lewis going at it to the death, an idea that probably would have delighted the better part of the unhearing nation.          
 King Creole ends just as Jailhouse Rock did with a solemn balled. In Jailhouse Rock it meant that Presley had been tamed, here he is hushed and chastened by experience and regret.
Somewhere Elvis is being judged for the course he let his life spiral into, but King Creole is his best defense. I can almost see him desperately grasping the film reels before the muses.