Posted on
June 15th, 2008
by keithcrime //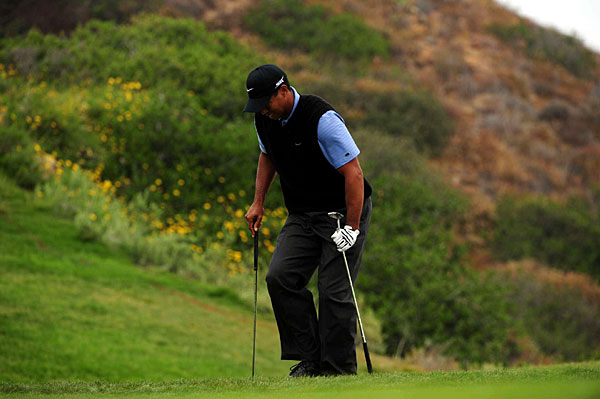 http://sports.espn.go.com/golf/usopen08/news/story?id=3443641
"He kept an East Coast television audience and a sellout crowd at Torrey Pines in suspense when his left knee buckled and he nearly dropped to the ground from the sheer pain, limping along with his club as a cane. The drama came on the last six holes, when he turned a five-shot deficit into a one-shot lead."
It's tough to root for perfection. That's why Achilles had a heel. That's why they needed to invent Kryptonite. Anyway, throughout his career Tiger Woods has interested me only in a "wow, it's ridiculous that someone is so good" way. He's been a Golf Terminator. Mowing down the world with his perfect Scandinavian wife, never having an opinion on anything more controversial than whether he would prefer it to be rainy or sunny for the next round.
Human, not so much, not even in his television commercials and those things can even make William Shatner appear human at times.
Until today's US Open, his only sign of humanity was missing his only cut after the death of his father and then going on to win the British Open. But being human is a good thing, so you had to enjoy seeing the guy limp around Torrey Pines grimacing in pain and yet still getting the job done in spectacular fashion. A couple of Eagles and a pop fly chip in on 17 that gave Woods his Michael Jordan "I have no idea why I'm hitting so many threes" shrug moment. If it were a movie it'd be hackneyed, but in real life only Ebeneezer Scrooge roots against him to win this thing tomorrow.