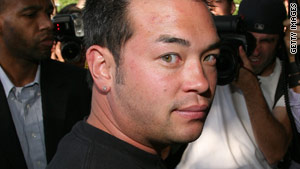 Bill Hicks wrote a song called "Chicks Dig Jerks" and used to marvel at the women who wrote love letters to serial killers. I have a friend who is rich, good looking, and basically a complete neanderthal when it comes to women, and every one of his girlfriends that I've met claims that they are going to "fix" him.
Dig this.
People.com) — Jon Gosselin has more relationship drama on his hands.
Hailey Glassman said her reality star boyfriend is emotionally abusive — and she's sick of it.
"He'll call me and take his anger out on me," Glassman, 22, said in a two-part interview scheduled to air on "The Insider" beginning Thursday. "He has 'mantrums.' I shouldn't have to put up with being emotionally abused. I cry and say, 'Why are you so mean to me?' "
GEE, WELL MAYBE AT 22 YOU SHOULDN'T BE DATING SOMEONE WITH 8 KIDS GOING THROUGH A CONTENTIOUS PUBLIC DIVORCE!!!!!