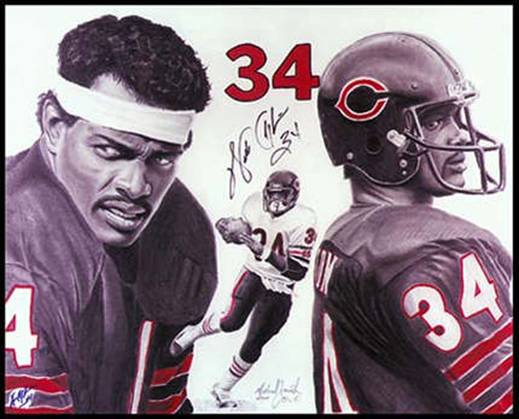 Your mom probably told you that life is unfair. Here's all the proof you'll ever need. Walter Payton dead at 45. OJ Simpson, 60 years old and still ticking. Lou Gehrig may come close, but for me this is the most unfair somewhat natural death of all time.
Walter Payton was perhaps the best conditioned athlete of all time. His workouts were legendary and he missed only one game due to injury in his 15 year NFL career, which is especially significant when you realize that for most of those years he was practically the entire Bears team.
More importantly, there probably isn't a single person in the world who knew him who ever had even a remotely bad thing to say about him. By consensus, he was apparently one of the greatest human beings ever to grace the planet.
When Franco Harris was approaching Jim Brown's career rushing record, Jim went a little nuts. He said that he hated the way Harris played and criticized his penchant for constantly running out of bounds. He even went so far as to threaten to come out of retirement after well over a decade to defend his record.
Eventually, it became apparent that even if Franco Harris did break Brown's record that in no time at all the record would belong to Payton. Jim Brown immediately shut up. He too had nothing bad to say about Payton.
When the Bears finally went to the Super Bowl in 1985, after years of letting Walter loyally run into a brick wall 300 or so times a year, Mike Ditka decided to use him as a decoy against the New England Patriots. As the Bears started to run up the score on their way to a huge lopsided victory, Ditka decided to let his sideshow, William "The Refrigerator" Perry, score a glory touchdown, a touchdown that everyone in the world soon realized should have been Walter's.
I saw Ditka a couple years ago at his restaurant and wanted to let him know how I felt about that decision, but Mike Ditka is really, really big.
He died in 1999 from a rare liver disease. Because of his celebrity, he was offered the chance to move up on the donor list. Thinking it unfair – he refused.
In 1977, Walter Payton had an outside chance of breaking OJ Simpson's single season rushing record going into the last game of the season. If I remember correctly, that game was practically held in a blizzard so Walter didn't really have much of a chance at the record.
On Feb. 25, 1978, OJ hosted Saturday Night Live. There was one sketch that was particularly hilarious at the time. OJ is at a party watching Walter trying to break his record on TV. Every so often OJ leaves the room and plunges a needle into a Payton voodoo doll, which is soon followed by the game's announcer saying something to the effect of "Down goes Payton!"
Now it's the least funny sketch in SNL history.
RIP Sweetness, sadly sometimes the universe really does seem indifferent.