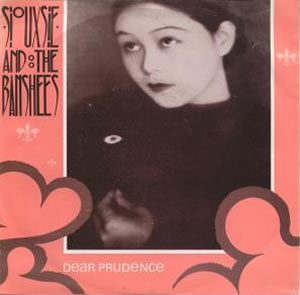 In honor of Across the Universe, which I really dug, I ask the following question, "Where are all the great Beatles covers?" There are something like 3000 versions of "Yesterday," and with the sole exception of the original they all approach a new standard of suckitude!
The Rolling Stone's song "Satisfaction" was redone spectacularly not once but twice, first by Otis Redding and a decade or so later by Devo. There are of a course ton of brilliant Bob Dylan covers, perhaps due to the fact that so many Dylan originals sound like demo sketches waiting for someone else to fill in the blanks. Beatle songs arrived sounding so perfect that in many cases other artists have found it impossible to even try to cut the Beatles at their own game.
Think about the significant covers in music history, one's that like the Beatles reworking of the Isley Brothers' "Twist and Shout" forever transformed the way the song would be heard and reinterpreted forever, and I can only think of one, Joe Cocker's "With a Little Help from My Friends."
Beatles covers usually fall into the following categories.
1. The "Gee, we wish we were the Beatles: covers – You'll find Cheap Trick's "Magical Mystery Tour here, but it's not nearly as magical as their heartfelt original tribute "If You Want My Love."
2. The "Hey listen it's X singing a Beatles song!" covers – Just about always worth a smile, most of these are innocuous enough like Aimee Mann and Michael Penn's version of "The Two of Us" and Paul Westerberg's Nowhere Man, both from the I Am Sam soundtrack. They're both listenable, but you'd never for a second trade them for the originals.
3. The "Oh God, they're going to make it all serious and ponderous as if it were "Bridge over Troubled Waters" – These all infinitely depress me.
4. Just about everything else is elevator music or just plain inferior.
Here are some of the few Beatle covers that are on my iPod.
Del Shannon: "From Me to You" – The first American cover version of a Beatles song, it's sort of an interesting curiosity, as Shannon tries to meet the frenzy of Paul McCartney's Little Richard knocked off "whoo"s with his own "Runaway" falsetto. It's interesting, but not essential.
Stevie Wonder: "We Can Work It Out"
Otis Redding: "Day Tripper"
Wilson Pickett: "Hey Jude"
All of these are really enjoyable, especially Wonder, who probably succeeds in surpassing the Beatle original, but in the end they all merely take songs and sounds of soul that the Beatles interpolated as their own sound and put them back into their original context.
Beach Boys: "Tell Me Why"
Beach Boys: "You've Got to Hide Your Love Away"
Both of these are from the quickly assembled to reassure the fans that Pet Sounds wasn't a sign that we've become completely insane "Party" album. They're wonderful slices of camp fire innocence, but when was the last time you were knocked flat on your back by something that you heard at a camp fire.
U2: "Helter Skelter"
"Charles Manson stole this song from the Beatles. We're going to steal it back." Unfortunately, we're still waiting for that to actually happen. You'd think every band in the world would be warring it out trying to play the hell out of this one. Maybe they all just know that even with the advances in loudness enhancing technology that it just can't be done.
Much better is the version of "Help" that the band played during some of its Amnesty International shows in the late 80's. It's the version that John Lennon would have played had he made it that long. Slow and mesmerizing, Bono's voice of the line "my independence seems to vanish in the haze" cutting you quickly to the bone.
Siouxsie and the Banshees – "Dear Prudence"
Perhaps the best Beatles cover ever, as Siouxsie Goths up the gloriously bright original with sounds every bit as weird as those found in "Tomorrow Never Knows" without for a second losing the song's optimism or beauty.
Aerosmith: "Come Together"
Nothing revolutionary, but entertaining enough for an occasional listen, neither Steven Tyler nor Joe Perry manage to outdo the fury of Lennon's original.
Fiona Apple: "Across the Universe"
Nice stuff that enhances of the dreaminess of the original.
Aretha Franklin: "Eleanor Rigby"
"I'm Eleanor Rigby, I'm keeping my face in a jar by the door!" This makes absolutely no sense to me but, its reasonably enjoyable.
Aside from a few other instrumental versions by people like Jeff Beck and Chet Atkins that's about it, and none of these are going to make you forget Jimi Hendrix' "All along the Watchtower" or even Manfred Mann's goofy but infinitely likable "The Mighty Quinn"
Like the Cheap Trick song I mentioned above, there are maybe more wonderful Beatle tributes then there are life changing covers. Here are some of my favorites.
The Knickerbockers: "Lies"
Hands down the best Beatles knock off ever!
Utopia: "I Just Want to Touch You"
The Rutles: "Hold My Hand"
Both perfect recreations of the early Beatles sound.
Spinal Tap: "Gimme Some Money"
Technically done by the Themesman, this could have been John Lennon's Hamburg theme song.
Raspberries: "Nobody Knows"
Raspberries: "I Wanna Be with You"
The true kings of Power Pop, sorry Big Star, and these are my definition of the genre, crisp guitars and spirited harmonies trying to reach the grandeur and orgasmic glee that was the pop pinnacle of the Fab Four.
ELO's entire career.
The Soft Boys: I Wanna Destroy You
Never have the bright cheery harmonies been scarier.
The La's: There She Goes
Simple perfection.
So go ahead and send me what you think I missed. Show me what I wasn't hip enough to discover but I bet it won't be as good as this one.
The Beatles: Revolution I
See, that's the way you cover a great song!