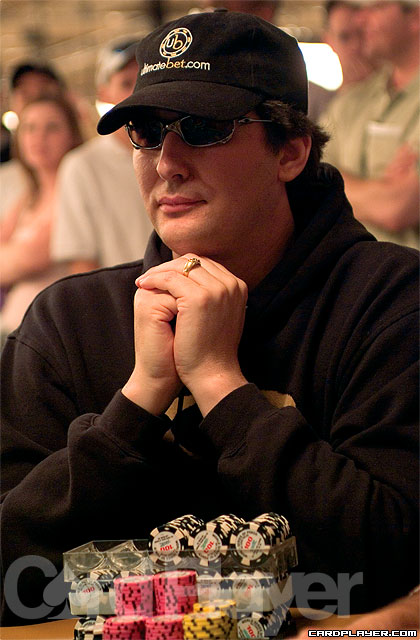 Early in day one of this year's World Series of Poker, I found myself discussing Phil Hellmuth, with the equally tall, but infinitely less abrasive Phil Gordon. I mentioned an episode of NBC's Poker after Dark, which featured an epic smack-down session of trash talking poker between Hellmuth, Mike Matusow, and Tony G. Gordon was quick to point out that as a member of the WSOP Player's Advisory Committee, similar antics were something he preferred to see a lot less of in the game.
The divergence between how the two Phils choose to conduct themselves during a poker tournament came to a head later in the day when Hellmuth reacted to Jon Turner's decision to call his Jacks with pocket Queens, as if the internet player had just said something horrible about his wife and kids. In fact, it was Gordon, who stepped in to settle Hellmuth down by threatening to call a floor official, which spurred Hellmuth to leave his table in order to plead his case to an infinitely more sympathetic ear, Matusow. Hellmuth told Matasow that his antics were the reason that poker players were suddenly making millions of dollars in televised tournaments, even going so far as to referencing Vince McMahon's zoo-like World Wrestling franchise.
Clearly, one can see Gordon's point. Imagine trying to run a tourney filled with nothing but Hellmuths and Matusows. It would be chaos on a grand scale, but as a viewer and fan I'm left to ponder the following. That episode of Poker after Dark was easily ten times as entertaining as any poker movie ever made. It may not have been art from a poker standpoint, but it was riveting to watch. Matusow and Tony G seemed to revel like little schoolgirls as they sat back, folded, and did their best to set off the next Hellmuth explosion. It was perhaps the only episode of televised poker that one could re-watch over and over again. The fact that Phil Ivey sailed away with the $120,000 prize was perhaps the least significant aspect of that week's worth of episodes.
One only had to compare this episode of the show to the previous week's series of episodes featuring former WSOP champions Chris Moneymaker, Jamie Gold, Johnny Chan, Doyle Brunson, and Carlos Mortensen. Despite the players' pedigrees the television episodes could have been used to lull rabid dogs to sleep. After Gold busted out, nobody said a word aside from an occasional "nice hand" here and there. The show was so uneventful that for perhaps the first time ever Brunson looked as though he had indeed been playing poker every day for forty plus years. Given certain tables and events, the game is unable to sell itself as a television show.
Going back to day one of this year's World Series. Undoubtedly, there was some fascinating poker being played, but to the spectators viewing the action from the rails the two clear highlights of the day were Matusow's loud opening second explosion of disgust at the playing cards chosen for the event and Hellmuth's tirade later in the day that had to be dissipated by Gordon's sense of propriety. One never knows what will show up on ESPN in the coming months, but if the $5000 Mixed Hold'em event is featured I'm guessing it won't be lots of chip leaders Greg Mueller and Sabyl Cohen calmly accumulating chips.
The enjoyment of televised poker is almost entirely dependent on the personalities of the players be it Daniel Negreanu's impish humor, Phil Ivey's steely stare, or Humberto Brenes doing a full fledged Mambo every time he pushes all of his chips into the center of the table. Last year's winner Jamie Gold made the three previous winners of the event Moneymaker, Greg Raymer, and Joseph Hachem look like three monks after taking a vow of silence. It might not have been everyone's cup of tea, but I, for one, sure preferred it to another segment of Chris Ferguson throwing playing cards at tropical fruit.
Gordon obviously sees the possibility that things could totally get out of hand. Hellmuth, as the most marketable name in the game, the youngest main event champion ever, and a holder of ten WSOP bracelets gets a pass, and everyone loves Matusow, but what happens when half of the players who waited in line yesterday for hours decides that they too want to be the next Matusow or Phil Laak. Hellmuth has won a ton of poker tournaments, but he's made it pretty clear that he sees the big money as being outside of the game. Can one really blame upcoming players for trying to cash in on the growing Poker Brat market?
Presently, the players themselves seem to police things pretty well, but we've already started to see the second generation of trash talkers in the face of Shawn Sheikhan, who seems to have neither Hellmuth's pedigree nor Matusow's likeability. Sheikhan seems to grate at his opponents like a broken clutch, yet one would be hard pressed to deny that the Sheiky-Hellmuth confrontation on the debut week of Poker after Dark was again one of the most entertaining moments in televised poker history.
Naysayers, who bemoan the new wave of poker brattiness, might also want to look back at clips of a young Stu Ungar becoming the poker world's first star, as he sat back and taunted the immaculately mannered, erudite Godfather of Poker, Doyle Brunson. The conflict between the two styles was riveting and proves there's room for both temperaments in the game.
For now, from a viewing standpoint the antics of the bad boys are a definite boon to the game. One just wonders if it will all reach a natural climax, before all hell breaks loose and every final table has to be held in an octagon cage.