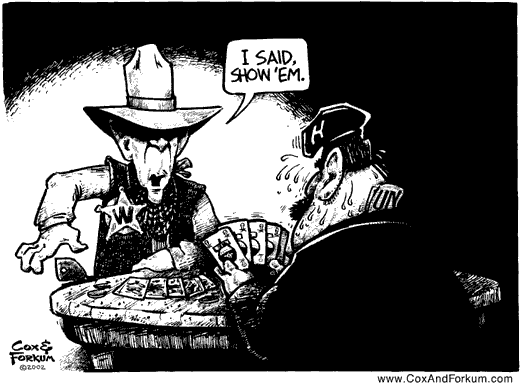 October 10th 2009 The Bicycle Club, Bell Gardens, California
9PM – 1 AM
My roommate, Anthony, told me that my personality was likely to get me into a lot of fights at the Bike. I'm not malicious, but the plain fact is that I get bored very quickly. It's a terrible trait to have because after all Poker is a game of patience, but that's been the story of my life and I'm stuck being me. I played basketball for years, when I was pretty much guaranteed to be the worst player on the floor just about every time I laced up my sneakers and nothing has changed. Why try excelling at something that I have a natural talent for when I can instead keep bashing my head into other low personal ceilings that I possess. Like Anthony says, for a smart guy, I tend to be pretty damn stupid.
I've decided after about a month to stop playing the game that Anthony has been devoting the last couple of years of his life to. It's $1 $2 No Limit Hold 'em with a maximum buy in of $40. Now you would think that this would be an extremely prudent place to play for someone with as crippled a bankroll as I possess these days, but I've instead found it to be riskier sledding than the $100-$300 buy in game.
The people that play this game are just completely insane. They want to play every hand and they refuse to fold in nearly every situation. These people are horrible Poker players, but I have to admit the fact that I just have no chance whatsoever of beating that game. It's like a competitive Keno game. The whole table plays every hand no matter how much is raised pre-flop. They don't wait for good cards, they just treat everything that's dealt to them as their lot in life and root for it as if they were playing Blackjack or the lottery. Phil Ivey couldn't beat this game.
Ironically, these games often have as much money on the table as the $100-$300 game. The whole table just keeps taking their $40 dollar shots and the lunatics that get lucky that day wind up with 500 dollars in front of them. This is just not the place for me.
1. If most games require patience – this one requires Job like patience
2. I'm not particularly lucky, in fact sometimes I think I'm the single unluckiest guy on the planet
3. I become easily tilted when I lose a big pot because something insane happens – a surety at this insane game and amazingly 40 dollars a throw can actually become pretty expensive a lot more quickly than one would think.
4. At the bigger game, I can actually start out with a somewhat competitive stack. If I open raise for $200 in the bigger game, I'll get called by Aces and a guy with Kings will fold. If I open raise for $40 at the 40 max game, I'll get 6 laughing callers waiting for the Keno game to unfold. I've actually decided that the higher dollar game is a lot safer to my bankroll!
5. When you play the $100-$300 game, all of the food is free!
Don't let people fool you or convince you that you need to be a math genius. Forget about reading David Sklanksy
The Brad Laidman Golden Rule of Poker: The only way to make money consistently at poker is against really bad players!
The 40 buy in game is filled with some of the worst players I've ever seen in my life. Nevertheless, I can't beat it
There's that line from Rounders about how if you don't know who the sucker is at the table then it's you. Well, in the 40 game it's anyone who tries to make sense of it. Their maniacal badness turns the whole thing into an insane crap shoot. Trying to make sense of it or worse beat it, is about a logical at trying to talk logic to Jodie Foster's Nell the second she comes out of the bush or wherever it was that she came from.
Addendum to the Brad Laidman Golden Rule of Poker: More than four really bad players at a table makes the game unbeatable.
It sounds absurd, but I swear it's true and there are 8 at every $40 table that they are spreading at the bike, which is like 15 of them every night.
Anthony just got home and we exchanged our stories of the night. Even when he wins at that $40 mayhem, something is bound to have made him crazy. When the whole table plays every hand to the end, you're pretty much guaranteed a bad beat story nearly every hand. The news at that game is when the best hand actually holds up.
Eventually, I asked him a question that I had from earlier when I'd seen an Asian guy being given a massage by a guy. "Hey, how gay is it to get a massage from a guy? I mean even if it was going to be like the single greatest massage in the history of mankind? Actually, now that I think about it, that would probably make it even gayer."
This led Anthony to remembering that when we covered the World Series of Poker in 2007, he'd seen Tobey McGuire being serviced by three massage technicians at the same time – apparently one on each arm and one on his leg.  We both agreed that this behavior by Spidey was extremely gauche and more than a little bit tacky. Nevertheless, I still ponder with envy the likelihood that some big star of the future will someday just have a woman completely service him while he's sitting at a Poker table. This would also be tacky, but it's definitely safer than doing it while driving.
About 97% of our conversations revolve around either Howard Stern, Poker, and one of the most viciously competitive long term games of gay chicken ever. I consider myself the king of gay chicken. I'm so committed to my skills in this area that I'm basically willing to go down on a guy if it's necessary to maintain my perfect record. Whether that would be considered a victory or a loss – it gets pretty complicated at that point. Luckily, it's never come to that.
Aside from this sort of reprehensible behavior, I'd consider myself to be pretty comfortable with people who are actually gay. I lived in San Francisco for more than a decade. The gay parades are quite compelling. I was always very happy when I had a girlfriend and could attend the gay parades without having to fear my parents seeing me in the background alone on CNN. Getting outed on CNN when you are completely straight, but unsuccessful enough with women to make people wonder, was never high on my lists of things that I wanted to see happen.
The year that I realized that I'd been in San Francisco for too long I yawned when 20 lesbians passed by, their bodies all completely unfettered by clothing and painted in red from head to toe, and I was like "Man, I know that I've seen that before." I was worried for a second that I'd become completely jaded, but luckily a group of lesbian country line dancers proved that I still had some small ability to be shocked. Frankly, that's just wrong on so many different levels.
Back to my night, which has somehow managed to lift my spirits a bit above the "should probably hospitalize immediately"state that it's been in for the past week or so.
I was just coming off of about five weeks of ugly bronchitis that at it's worst saw me pull a muscle in my groin from coughing so much.
Anthony: Keep smoking genius!
Me: My heart was broken, I have issues, leave me alone!
All of our conversations eventually end with "leave me alone!"
I'd only just moved to San Gabriel from Cleveland about three weeks before I became so sick that I thought I was going to die. Coughing constantly, is bad enough. Having intense cringing pain shoot out from your groin every time you do. Well, after about a week of this, Socrates' assertion that death might only be a form of painless, heavenly sleep was sounding like an attractive idea. I was in constant agony and getting practically no sleep.
Eventually, I hooked up with a polite, quiet Chinese doctor for $100 a throw, who prescribed an avalanche of drugs that didn't do much to get rid of my bronchitis, but did manage to leave me stoned enough not to care.
About a month before Michael Jackson died, I'd been visiting my Aunt in Santa Monica and told her that my insomnia was so bad that I'd really love to be able to have someone anesthetize me every single night of my life. Well, Michael Jackson is now dead from doing it, so I'll have to guess that it's not as good an idea as I had originally thought.
Six months ago, I'd undergone shock therapy for about six or seven sessions or so. When the guy at the Cleveland Free Clinic suggested it, I pondered that it sounded a bit too Francis Farmer to me. He insisted that it had now been gotten down to somewhat of a real science and I didn't have anything better to do at the time besides sit back and ponder failure, a dearth of true love, and all of the great abilities I'd managed to squander, so I gave it a try.
Around session three, when half of my memory was completely erased for about three hours, I should have put a stop to it, but frankly I was really enjoying the anesthesia. You have to understand that for someone who has spent millions upon millions of hours desperately trying to fail asleep like I have, the ability to have someone knock you right out is just Nirvana. I love every single thing about it. You get that Ether like smell in your nostrils and your eyes roll deep back into your head, and you do you your very best to playfully struggle for a few more seconds of sheer contentment before falling into a great drug addled sleep. It's practically the closest thing I've come in my life to having a divine, sacred moment.
Eventually, I did put a stop to it. In all, I had about eight sessions and was a little shocked when I found out that it had cost like $5,000. When my mother said that it was being taken care of, she actually meant that we weren't going to pay for it, because I was now apparently indigent.
Again for someone widely considered to be as smart as I have been for my entire life, I can be pretty shallow and stupid when it comes to details. My mother works in a mood disorder clinic, and as a result  I've gotten a lot of free psychiatric services. Apparently, everyone involved in this scam knew that I was never going to be paying.
Back to my deadly bronchitis, around week three my demure Chinese doctor brought out the really big guns medically. I was taking so many pills that he suggested that I stop taking my psychiatric stuff and I, of course, was stupid enough to follow his advice.
Hell, what did I care, his drugs were a lot more fun than their drugs were, and I'd be saving money on my meds. Sadly, once I'd finally beaten the bronchitis, I fell into a near suicidal crash of depression. I suppose I should have seen that coming, but I swear I was really sick and exhausted at the time.
Now that I look back at it, I sort of think that the doctor that I'd found on the internet was trying to get me off of my medication permanently. "You no need to be depressed. When you sad. Just go out among the people. Just get out among the people." That isn't a goof. That's exactly what he said to me and I wasn't really in a state to argue with him at the time.
I've read more than a few Poker books and pretty much every one of them tells you not to play when you are suicidally depressed, but what else was I going to do to "get out among the people."
I sat down at the Bike, bought in for $150 and ordered my gratis chicken kabob meal. It's perfect food for me. Grilled meat and white rice. I have the world's blandest diet. I eat everything plain. My mother spoiled me. Never made me taste anything and often would make me a completely different meal for me on demand if that night's selection didn't fit my picky specifications. My mother is the greatest person in the world, but I'm probably among the most spoiled people ever to set foot on the planet since the days of Nero and Caligula.
The first big hand I saw occurred when a young aggressive Latino kid got all his money in pre-flop against this old Jewish guy. That's a bad move. Except for Doyle Brunson, old guys, especially Jewish old guys are the tightest Poker players in the world, which means that I wasn't surprised at all when the old man turned over his Aces.
That old man literally didn't play another pot for three hours. At one point, he'd strayed from the table, and I mentioned this fact to an Asian guy, who seemed to be a pretty good player. "Dude, if that guy's in the pot, I'm just folding even if he only bets a dollar and I have Kings!"
About a half hour later, I raised the three dollar blind to twelve, with some nonsense hand like six, seven of clubs, and the old man called. About a minute and a half later, he and another young guy were all in pre-flop. And again, he had …. Aces! I laughed out loud about it to my new Asian friend. The old man heard me and insisted that he wasn't really that tight. "These are the only two hands I've gotten all night!" Well, of course, by old Jewish man standards – I'm sure they were his only two playable hands of the night.
I've done some really stupid things at a Poker table in my time, but paying off the old guys isn't one of them. You bet at them once. If they call, you completely give up on the hand.
Brad Laidman Poker theory 1: When an old guy raises, fold. There are plenty of old guys that will passively call you down with a worse hand, but for them to raise takes a hand that is likely to be at least  a hundred times better than what you are holding.
Essentially, my current bankroll is about $500. So I'm going to be playing almost as tight as the old man. I've been considering devoting like $5000, to see if I can suddenly transform into a much better, way more disciplined player than I am, but for tonight, I'm going to have to be pretty careful.
It took me about an hour to imperil my first buy in.
I called a small raise with KhQd. The flop came 10 J 4 with two hearts. The raiser led out for 20 dollars and I tried to push him off of his hand by raising it to 50 with my open ended straight draw and over cards. Now this is a pretty stupid move on my part, because I want him to fold, but if there is one thing I've learned in my month or so of California Poker, it's that if these guys have anything they are not folding. Most of the time I could show these guys that I had a straight flush and they still wouldn't lay down top pair to me.
Brad Laidman Poker theory 2: Don't try to push people off of hands, when you know that they are incapable of folding.
Instead he had AJ and we got all of our money into the pot, which I won with a King on the turn. The other guy acted like I had raped him, but in reality, it was a 50-50 coin toss of a pot. Since I essentially only have about two buy-ins that I'm willing to risk tonight, it wasn't a spot I really wanted to get in, but it's always better to be lucky than smart.
My opponent won the next hand when his King was better than my King. Nevertheless, winning a four dollar pot (three of which was his money) didn't seem to cheer him up much. "Yeah, that makes up for it," he said sarcastically.
But hey, I doubled up, which means that I can now relax, because I play way better when I'm ahead than I do when I'm behind and desperate. This also means that I start talking. I engage the guy who looks like Nick Cave about his alt Rock career. I make computer game sounds when the kid who is supposedly playing to help him buy himself a PS3 is all in. I think I'm amusing, but eventually someone loses a pot they think they should have won and they blame it on me.
This eventually happens. A guy in his late 20s moves all in for about $95 and my Asian friend goes in the tank to think about whether to  all for about 5 minutes. They both were in for $30 before the flop, and the board is all low cards, which means that the guy who moved all in either has absolutely nothing or a monster of a hand.
6 minutes, 7, he's still trying to decide whether to call or not. Sadly, I'm unable to exist for that long without getting intensely bored and I opened my mouth. Noticing that the raiser had forgotten to bet his last two single dollar chips, I suggested that my Asian friend raise him the extra two dollars. "Who knows, maybe he'll fold!"
Eventually, he made an amazing call with only Ace King and caught the other guy in a complete bluff. The bluffer didn't even show his cards. And yes, I made it even worse, by pointing out that indeed had the Asian guy raised him the extra two dollars. He would have folded.
As soon as I said it, I knew that I'd made a mistake. About five minutes later, I took a hand off of the bluffer and he let me have it. "Keep your mouth shut when you aren't in a hand, don't make computer game noises …" The whole nine yards. I did my best to defend myself. In reality, nothing I said could possibly have affected that hand, but he'd just gotten caught in a daring bluff for all his chips and he inevitably needed someone to blame it on.
I hate having people criticize my behavior at a Poker table. I, after all, find myself pretty damn clever and funny and so too do the guys who are winning. Nevertheless, whenever someone calls me on it and I fight back, I'm convinced that something bad is going to happen to me and my chips.
This happens about ten minutes later when I pick up Kings and raise a small stack all in pre-flop for about $70. To make it worse, when he calls, I greedily point out that he's forgotten to put his three single dollar chips into the pot. I've now been greedy about three dollars into a $150 pot, Karmically, I am now sure to lose, and I do when he hits an Ace on the turn.
Brad Laidman Poker theory number 3: Kings are not Aces.
I'm a goofball a lot of the time at the Poker table, but eventually the people that I play with a lot give me some room because I never say a word when I've gotten unlucky. I have the maturity level of a third grader, but I take my losing like a man.
Which leads me to the man's man, who didn't.
This guy walks in and he looks like Wyatt "fucking" Earp. He's got this spotless, expensive cowboy hat on and he's got it all the way pulled down. He's about 55 and he sits his big belly down at the table and hangs his chin on his neck more theatrically than a throw down between Better Midler and Liza Minelli.
He's sitting two players to my left and all I can see is the hat and part of his chin. To make things even worse, he goes ultra Hollywood on every single decision he makes, dramatically thinking everything over and pushing his three dollar calls into the pot as if he were just about to gun down the Clanton mob.
Guys in sunglasses are bad enough, but do we really need the whole Cowboy routine?
At one point, after about 20 minutes of silence from this guy, I lean over and put my head down on the table so I can see under his hat. There's literally nothing there, he has that thing pulled down on his head tighter that Weird Harold did on Fat Albert. I'm not even sure if he's awake under there because his eyes are either a sliver or he's fallen asleep entirely. I soon found out that he wasn't asleep.
I'd built my stack back up to around its $150 starting point when I decided to play 6 9 offsuit. My professional Poker decision went something like this, "Damn, I've seen a lot of boards with sixes and nines in them, I'm going to play these.
Brad Laidman Poker theory 4: Cards do not become hot.
Just because you've seen a lot of sixes and nines that night means absolutely nothing. Don't argue with me. And while you are at it, quit looking at the previous numbers that have come up in Roulette, because that doesn't work either.
That theory remains correct, because no sixes or nines came on the flop. What did come was 5 7 8, which turned my garbage hand into the nut straight.
I have mixed feeling about this. I'm dying to win a big pot, but sadly straights never improve. Just a few days earlier, I'd flopped a nut straight, with not only a flush draw, but a straight-flush draw, but couldn't convince my opponent who'd flopped a set to fold and lost a six hundred dollar pot when the last two cards on the board were both 2's and he rivered a full house.
The Asian guy I respected led out for $20 and Wyatt Earp behind him called. By this point, I know that I'm either going to win or lose a huge pot. Fortunately for me, I'm about a 2-1 favorite against anything.
The safest thing to have done would have been to just completely over bet all of my chips, but I decided to be snaky and raised to $50. The first guy called and Wyatt Earp raised. I when I say raise, I mean slowly, methodically, and over the top as if he were about to string up a rustler.
At this point, there was nothing I could do, but get all of my chips into the pot and pray. The first better folded and Wyatt quickly called.
I pressed him for information about his hand, but he was silent. "I have the nuts do you have a set? A flush draw?" Luckily, for me the board didn't pair and the flush draw didn't get there. After the river, I still had the nuts. I showed my cards and Wyatt angrily, threw his pocket Aces onto the table.
It's pretty hard to play a hand worse than this guy did. He limped in with pocket Aces, hoping that someone would raise and when the whole table called and the flop came out about as bad as it could have for his hand, he got all of his money into the pot.
He'd gotten his money into the pot with less than a three percent chance of winning.
Now, I swear to you that I wasn't gloating. I didn't say a word to this guy. The rest of the table lit up at the big pot and people were congratulating me on my hand and I merely expressed joy and relief that I'd decided to play such a weak hand, and that it had actually held up and won.
"I just had a feeling about the 6 9," I laughed.
Then suddenly, Wyatt lost it.
"How about you just shut up about that hand already and move on!"
Already, it's been like 30 seconds?
"What?"
"Stop gloating about that hand and just shut up."
"What's your problem?"
"I just lost a big hand and I want you to shut up about it."
"I barely said anything."
"Well, good, don't say anything else. Shut up."
Fuck that. I don't roll that way.
"Look, it's not my fault that you played your hand about as badly as it could be played and lost. Why don't you try being a good sport. That guy yelled at me for talking before and he at least had a point, but you're just a sore loser."
And I was absolutely, right. Now, if he follows me into the parking lot and pulls out his shotgun, that isn't going to mean very much, but I'm absolutely certain that I didn't do anything wrong. My life has sucked enough without having to be pushed around by some cowboy fuck who thinks that he's Charleston Heston.
It actually, got quite comical after that.
"I was going to stick around and let you win your money back, but I think I'll leave with it."
"Good! You leave with your big mouth. Take your little, bald ass out of here."
He's taken it to the next level with that profane personal dig, and I do what I always do I call the floor man over to reprimand him and to make sure I get out of this place alive.
Brad Laidman Poker theory number 5: Don't slow play Aces and then yell at me when you are too stupid to get away from them!
The floor man came over and we continued to bicker about what had and had not happened. Eventually, he kept referring to me as Curly, which of course caused me to start calling him Tex.
I did leave, and I cashed out a $250 winner. My golden rule of Poker paid off tonight, before I did something really stupid and costly, and thanks to security, I'll live to see another spirited day of the disaster we call my life.
In truth, I rather enjoyed the fight and Anthony will be amused that I managed to eke out of the place without being beaten to a bloody pulp. It's brought me out of my haze. For the first time in a month a half, I feel somewhat chipper!