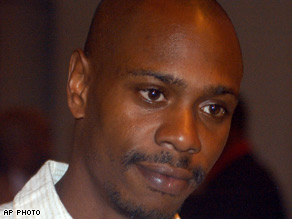 This is impressive but doesn't Dave realize that about a half hour of his work is the equivalent of 4 hours of Dane Cook?
Chappelle Breaks Laugh Factory Record

April 17, 2007
By Nicole Kristal
Comedian Dave Chappelle put an end to his self-imposed sabbatical April 15 by performing to a Laugh Factory audience in Hollywood for six hours and seven minutes, breaking the comedy club's record for longest standup performance. The record was previously held by Dane Cook, who performed for three hours and 50 minutes on April 10.

A representative from the Laugh Factory reports Chappelle took the stage at 10:36 p.m. and didn't leave until 4:43 a.m. His routine included material about President Bush, Mel Gibson, Michael Richards, and Michael Jackson. Chappelle even delivered a few digs at Laugh Factory owner Jamie Masada for fining comedians for using the N-word on stage. The comic incurred $2,200 in fines during the performance and will donate the money to his favorite charity.

Before Chappelle and Cook's record-breaking performances, comedian Richard Pryor held the Laugh Factory record for a two hour and 41 minute performance in 1980.