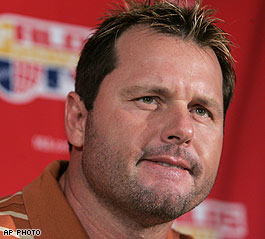 By shocking, I don't mean the steroid allegations, I sarcastically mean the denial.
This is from CNN.com:
"A lawyer for Roger Clemens strongly denies the seven-time Cy Young Award winner used performance-enhancing steroids. 'He is really, really concerned and upset that he has been named in this report,' said attorney Rusty Hardin."
Like Lenny Bruce said Deny, Deny, Deny. Even if they have you on film Deny. Unless of course you're Barry Bonds and they put you on the stand, then you're basically doomed. Nevertheless, Clemens who I've always been convinced was roided up has probably netted at least an extra 100 million dollars from his supplement use.
The Mitchell report also claims that Clemens took injections right before two spectacular playoff appearances where he gave up no runs,  only three hits and had about 24 strikeouts. One of those games was the World Series contest where Clemens tossed a broken bat at Mike Piazza – steroid rage?
Frankly, I'm glad this hypocrite has finally been outed because Barry Bonds, jerk that he may be, has been taking the brunt of the media's abuse for far too long. Roger Clemens? Look it up, pre-needle he never could beat Dave Stewart in a big game.