Posted on
October 14th, 2007
by keithcrime //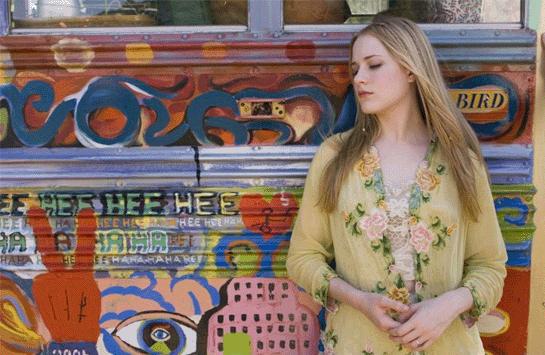 It's basically impossible to argue with the fact that The Beatles were the soundtrack of the sixties, and that it didn't end well. For, as the bright optimism of the Fab Four reached the next decade bloodied by the Viet Nam war and the twisted imaginings of Charles Manson, the Beatles to everyone's despair were no more, and the era was slammed shut forever, eulogized by John Lennon, himself, in 1970's "God." "The dream is over."
Julie Taymor's Across the Universe, could have easily been an out and out pretentious disaster. Does anyone remember that movie by Alan Carr and the Bee Gees? Instead, it a visually stunning tribute to optimism, and the notion that even if you didn't emerge from the sixties unscathed, hopefully you at least like John Lennon finally found someone to shake up your world and to love.
So much has been written and said about the sixties, that it's become an almost disastrous cliché, the home of bad decade retrospective miniseries that wind up on VH1 and make you never want to hear another song by Credence Clearwater Revival again.
It's become such a cliché that perhaps now, it's finally time for an out an out mythologizing of its best intentions, and that's what Taymor's film gloriously provides.
Jimi Hendrix and Janis Joplin didn't find love, survive, and make beautiful music together. The Beatles didn't talk those policemen into letting them continue to play for our salvation on the roof of the Apple building. But wouldn't it have been nice, if they had?
The optimism, the commitment, the passion, the experimentation, they've all lived on to a certain extent through the wonder of the music and the fury of the example, and Across the Universe lives as a tribute to the wonderful innocence of a time when many were  sure that we could eventually live better and more peacefully.
Universe isn't just twenty really good music videos. It's the first movie since Alan Parker's Pink Floyd's The Wall, that you could get really lit up on recreational drugs and see over and over again, this time leaving with a huge smile instead of a feeling of dread and defeat.
The musical interpretation of the Beatle catalog succeeds magnificently by not trying too hard, replacing any need to be too serious with sheer earnestness and enthusiasm.
Evan Rachel Wood's voice perfectly captures the early Beatle optimism of It Won't Be Long, and Hold Me Tight, enacted in equal glory by swingers in both ruddy Liverpool and a white bread America about to rocked to it's core by a decade of grasped freedom, and the reverberated backlash of violence and control of a political system with a cold war to fight.
Nobody escaped from the hell of Viet Nam and the aftermath of the search for numbing escape of "Happiness Is a Warm Gun," as quickly as they do here, but Taymor knows that the true glory of the '60s wasn't any short term political victory, but the refuse to compromise simplicity of John Lennon's paean to the best that humanity had to offer, "All You Need is Love." Lennon's vision hasn't conquered the world's hatred, competitive insanity, and crippling fear, but as long as you pass it on to your children, it needn't have to die either. Now with Across the Universe, they'll have something full of stunning bright impressionistic beauty to look at while you do.