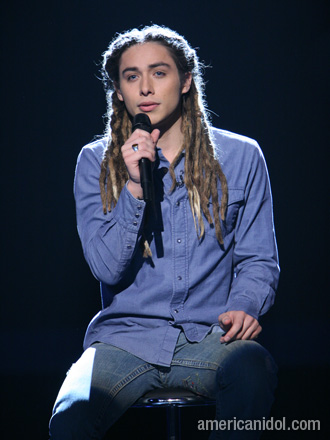 Simon Cowell: I  don'tknow what you're thinking …
Jason Castro: I was thinking Bob Marley!!!! Yeah!!!
Simon Cowell's panties are all in a bunch because Jason Castro is too stoned to remotely care whether he wins American Idol!
Castro ensured his departure this week when he blew the lyrics to Mr. Tamborine Man, although it would have been really funny if he had just fessed up and said "Wow, there's a ton of trippy words in that song Dude!"
Nevertheless, here's what I've loved about him. He has zero guile. He's like someone who has watched the first 27 seasons of Survivor and sits out basking in the sun, while everyone else plots and forms alliances. He couldn't care less whether he wins this thing.
They tell him to move out of his box, and he doesn't. They tell him it's a singing COMPETITION, he doesn't understand because to him singing isn't a competition. If he finds something on their list he can sing, he does well. If he doesn't, well it's going to be ugly and he really doesn't seem to mind very much.
He's actually too nice a kid to really want to get in there and fight and they're appalled at that. They're actually angry at him.
So here's Jason Castro. There are any number of Bob Marley songs he could probably do really well. Three Little Birds – One Love – Redemption Song. Of course, those aren't on the list.
Should he sing I Shot the Sheriff? Of course not, he white, the judges are going to hate it, and the time constraints mean that he'll only get to sing the chorus once. Does he care? Of course not. Why? Because …
I was thinking BOB MARLEY!!!
Party on Jason. You may be the only American Idol contestant to understand what phrasing is and I love that you never once thought about shaking your ass for the man.
Now please, get out there and vote for David Cook because that other kid creeps me out.
BTW did Duran Duran get into the RR HOF while I was sleeping – and how can you even think of performing that song without the orgasming woman in the background?